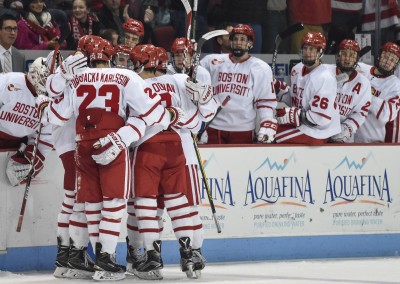 For the second night in a row, it came down to the final two-and-a-half minutes of regulation.
On Friday, in the No. 10 Boston University men's hockey team's 5-3 loss to No. 4 Boston College at Conte Forum, things were all tied up until a late BU penalty led to BC's game-winning goal with 2:10 left to play in the third.
During Saturday's contest at Agganis Arena, the Terriers (11-7-4, 5-4-3 Hockey East) were holding on to a 1-0 lead over the Eagles (15-4-3, 8-1-3 Hockey East) late in the final frame. The lone goal in the game came from senior captain Matt Grzelcyk at 11:10 in the second period on a redirected shot from senior assistant captain Danny O'Regan.
As the clock ticked toward 2:05, winger Matthew Gaudreau found forward Ryan Fitzgerald in the high slot, and the junior beat senior goaltender Sean Maguire high to knot things up on BC's 35th shot of the game and force overtime.
Neither team scored in OT, despite chances, and the rivals ended up drawing 1-1.
"Well, a typical BU-BC hockey game," said BU head coach David Quinn. "There was some great goaltending at both ends, both teams had some great chances. Physical, fast-paced, certainly a crowd-pleasing game. Obviously disappointed we weren't able to get the two points, but a much better performance from our guys tonight I thought for sure, and that's a really good team we just played."
Quinn said on Friday that he thought the team "took a bit of a step back" in the loss, and Maguire echoed his sentiments on Saturday.
The netminder noted that the Terriers were playing "really good hockey for about a month" and that, were you to ask the players, coaching staff or anyone at the game, they'd all agree BU wasn't as physical and didn't skate as hard on Friday. There were still things it did well in the first game of the home-and-home, Maguire said, but BC "wanted it more than [BU] did."
Grzelcyk, who had stressed to his squad prior to the weekend that the team that could best control its emotions would win out, added that he was upbeat in regards to BU's effort. He said he didn't know whether maybe the Terriers had heeded his advice a little too carefully on Friday, but they didn't play with much fervor at all.
The Terriers made a point, then, to play with more passion in Saturday's game.
"Obviously we weren't really pleased with how we played last night, but I'm very proud of the guys for taking a great step forward in the first period," Grzelcyk said. "It's not something we're used to doing very much. From that perspective, it's definitely pleasant to see."
Maguire said that extra, channeled emotion gave BU the success it had during the tie, playing hard and "the right way."
"It's just about bottling up that emotion rather than letting it go all over the place, you know what I mean?" he said. "It's hard to do, but I think we as a team took a step forward in our maturity and handling that kind of emotion and pressure tonight."
In terms of improving their actual gameplay, the Terriers got better, but still conceded some odd-man rushes to BC throughout the game as they had Friday. The difference on Saturday, Quinn said, was the backcheck.
"We did a better job coming back, and they didn't get as much out of it as last night, so baby steps," he said. "And they're a fast team. That's the strength of their team, their speed up front, and they work hard.
"We're a work in progress," he continued, "and I thought we did a lot of good things tonight. We had some great chances, they had some great chances. It was a hard-fought game by both teams."
As a whole, though, the Terriers were much better prepared from puck drop to face the Eagles on Saturday.
"Tonight, obviously, came out in the first period ready to play. We were ready to battle, more so than play the game," Maguire said. "It wasn't fun for BC tonight."