Sean Maguire played nearly 58 minutes of shutout hockey for the No. 10 Boston University men's hockey team on Saturday night, until No. 4 Boston College scored a goal with 2:05 remaining in regulation.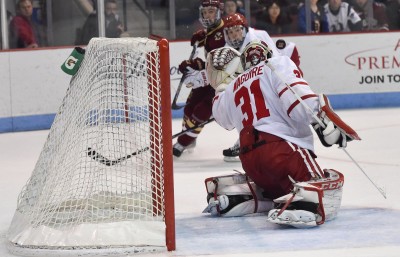 The senior netminder finished with 38 saves on the night, though, and played a critical role in stopping four overtime shots to preserve a 1-1 tie for BU (11-7-4, 5-4-3 Hockey East) at Agganis Arena one night after it dropped a 5-3 decision to the Eagles (15-4-3, 8-1-3 Hockey East).
Maguire has started the last five games for BU, and has helped BU to wins over then-No. 5 Harvard University and then-No. 2 Quinnipiac University. Over the course of those five games, Maguire has posted a .926 save percentage and a 2.57 goals-against average.
So, does he feel more comfortable now?
"Do I look that way?" he joked after Saturday's game.
Well, after an on-and-off start, recording just an .877 save percentage through his first five starts — which were spread out over the course of 17 of the team's games — it's safe to say things are looking up for Maguire.
But he's not trying to think too much about it.
"I'm just going out and playing," Maguire said. "I'm not really worrying about feeling comfortable or not. I'm just, I don't really feel anything, I'm just flowing. That's the way I want to be."
With just the one goal allowed on the night, Maguire raised his season save percentage back above the .900 mark — from .897 to .908 — and lowered his goals-against average from 2.95 to 2.72.
BU head coach David Quinn said that between Maguire's performance on Saturday and on Friday, when he only allowed one even-strength goal, his showing this weekend is encouraging for BU as it enters a crucial stretch of games.
"He played great last night, too, and he's been getting better and better," Quinn said. "The great thing over the weekend is, from our end of it, we got elite goaltending and that certainly bodes well moving forward."
Senior captain Matt Grzelcyk agreed with Quinn's sentiment, and said that Maguire's increased poise has made a difference.
"I think he just has a little bit more confidence now," Grzelcyk said. "I've known him for four years now, and he's probably the most competitive kid I've ever met.
"So I think all the guys were really confident at the beginning of the year as long as he got a few games in, eventually he would work his way back in the lineup. So it just gives us a whole new confidence level back there."
The only goal Maguire allowed in the game was a shot from BC forward Ryan Fitzgerald from the high slot. Maguire could only describe the goal as such: "I saw a puck go over my shoulder."
But he continued to explain that he could only worry about being consistent from start to finish in the game, and not worry about individual goals.
"The best thing I can tell you is worry about the next shot," Maguire said. "There's no past, there's no future. It's right now."