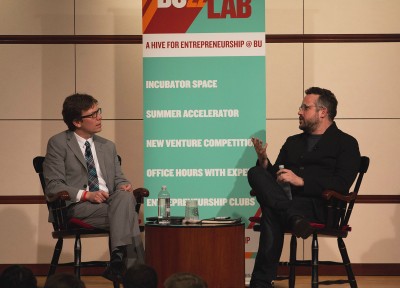 Evernote co-founder and Executive Chairman Phil Libin shared some of his entrepreneurial experiences Tuesday with approximately 200 members of the Boston University community at the Questrom School of Business Auditorium.
The talk was part of the Entrepreneurship Conversation hosted by BUzz Lab, BU's entrepreneurship center. Curt Nickisch, a BU alumnus and WBUR reporter, moderated the free workshop.
During the talk, Nickisch asked why Libin, an alumnus of the Class of 1994, dropped out of BU in his last year of college, as he only had four more credits to fulfill before he would have graduated.
"I got into some major argument with the administration or something," Libin said. "It was really stupid. I should've taken one more class and found a way to graduate."
With figures like Bill Gates in mind, Libin acknowledged that sometimes people attribute success to not finishing college. However, he said this common belief is untrue.
"It's not that I'm successful because I dropped out of college," Libin said. "It's that I'm somewhat successful now and could've been more successful if I had earned my degree."
Though hands-on experience in the work field is important, Libin said, one can learn the crucial "how to learn" skillset in college.
"The question is, 'What can you learn [in college] that is going to be the reason you're doing the job instead of a machine?'" Libin said.
Libin founded and sold two startups with his friends between 1997 and 2007. The third startup, Evernote, was unique because it was a product his team built for themselves.
"The Evernote philosophy of building something for yourself, building something that you love, is a very good one," Libin said.
Now a venture capitalist, Libin said he is impressed by startup founders who are passionate, want to improve the world and can answer the following important questions: "Why this idea? Why you? Why now?"
"I look for someone who can paint a very vivid picture of what the world looks like if your company is successful and make that a place I want to live in," Libin said. "Very few people can do that."
During the workshop, the audience submitted its questions through Questrom Poll, a real-time application for Q&A purposes. Nickisch then selected the questions with the highest number of votes to be answered by Libin. One attendee asked Libin if he thought Boston or New York City could replicate the growing innovative culture of Silicon Valley.
"I was in Boston from '89 to 2007 and now that I'm back, it actually feels a lot more vibrant and a lot better," Libin said. "Having said all that, it feels like it's hard for me to point to the really well-known brand-name startups that are here — you know, the mid-size startups that everyone in college wants to work at. They're still overwhelmingly in San Francisco."
Libin added that he is not sure if Boston needs to mimic the culture in Silicon Valley because Boston excels in different aspects.
"If you want to be socially acceptable in Silicon Valley, there's only one path, which is you make or work at a startup," Libin said. "In Boston, there are other things that you can do and still be a respectable human being. The goal is maybe just to keep doing what Boston does really well."
Several attendees said they saw great value in Libin's advice and would try to reflect on his words in the future.
Mary Sandro, 45, a Boston resident and the owner of customer service training program ProEdge Skills, said Libin's insight on risk management was the most valuable information.
"I started my business 21 years ago, and [Libin's] risk management is true," she said. "I started my business and I was immediately $10,000 in debt, but at the end of the day, you can make that back in a matter of time. I hope young people today don't feel risk averse."
Yanjie Han, a second-year graduate student in the College of Communication, said what struck her the most was Libin's model of rigorous optimism.
"I'm under a lot of stress to find a job, and it makes me feel like I'm not very optimistic now," Han said. "If I can learn from him and proceed to persuade myself and my friends that we should be optimistic about getting a job and doing well in classes, maybe we can do something well."