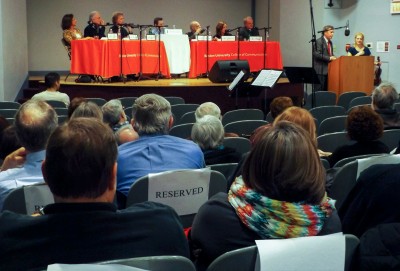 The radio game show "Says You!" paid tribute to the Boston University College of Communication Sunday, recording a live episode in front of a crowd of approximately 90 BU alumni, faculty and students in the COM building.
"Says You!" was created 20 years ago in partnership with WGBH and was formerly produced and hosted by BU alumnus Richard Sher. The show is now produced by the late Sher's wife, fellow BU graduate Laura Price Sher, and is hosted by Barry Nolan, a lecturer in the Department of Journalism in COM.
"It wasn't really about trivia so much as it was about depth of learning," Sher said in reference to her husband's initial idea behind creating the show. "His motto became right from the outset, 'It is not important to know the answers, it's only important to like the answers.'"
All of the panelists, many of whom are also BU alumni, remain the same today. Those at Sunday's recording included regulars Tony Kahn, Paula Lyons, Arnie Reisman and Carolyn Faye Fox as well as frequent guests Lenore Shannon and Tom Kemp.
"Says You!" consists of different rounds of word games, from Role Play, in which panelists guess an actor after being given challenging clues, to The Bluffing Round, in which panelists guess which definition of an odd word is correct. The levels of difficulty on Sunday varied, and many panelists learned new things.
The show records episodes all across the country and has gained a diverse demographic of fans. What Sher said is unique to the show is that audience involvement in the show is heightened, making listeners feel as though they are a part of it.
"In each venue and in each place, we do still try to create a sense of intimacy because … when you're listening to the radio, it is intimate," Sher said. "Our listeners feel as though they know these panelists, and that's something that we strive to keep in the live performance."
The recording at BU was something "completely out of the norm" because the team typically records "in front of large, live audiences," Sher said. She added that given the connection between the panelists and BU, it seemed fitting to have a recording in COM.
"To me, there are very few shows either on radio or television that have this shared experience of an academic institution," said Garland Waller, a frequent panelist and director of BU's Television Graduate Program. "It's very special that these really smart, clever, fun people have an association to Boston University."
Listeners can contribute to the show by sending in their own questions, which panelists may or may not be able to answer. At one point Sunday, Nolan threw a question to the crowd about the movie "Planes, Trains and Automobiles," causing dozens of audience members to raise their hands.
"One of the things that has been interesting about the way media has evolved is there is a greater expectation now than there has been in previous decades that we're somehow all in this together," Nolan said. "[Audience involvement] takes us to the newest edge in what media is doing and takes us back to a simpler, more comfortable, more connected time."
"Says You!" began releasing podcasts in October, and within weeks, iTunes podcast host Dave Westwood recognized it in his "New and Noteworthy" show. The important element of audience participation has created a loyal fan base, Nolan said.
"One of the things that people have loved from the beginning of written language is puzzles and fun and quizzes and play[ing] with words," Nolan said. "We indulge all of that, and we do it in front of a live audience and interact with them."
After being on air for two decades, the show continues to grow. Along with the release of its podcasts, "Says You!" has come out with its own app to keep up with current times.
"Language, like anything else, is not static," Sher said. "Even though this is an old-fashioned format show, it embraces all of the changes that are happening within the current language."
Live music accompanies the show and is played in between games and during the opening. Palaver Strings, a Boston-based string orchestra, scored Sunday's recording.
Shiela Kibbe, associate director of the School of Music in the College of Fine Arts, was among those in charge of arranging the music for Sunday's episode. She said she is also a big fan of the show.
"I've listened for years and always was envious of people who could be in a live audience, so that was great," Kibbe said.
While most of the audience members were BU alumni and faculty members, some students made it out to event as well.
"I … like the back and forth between the panelists," said Carly Sitrin, a junior in COM. "I think it's funny, and they're really off-the-cuff."
While the show was mainly focused on learning new information and playing different word games, there was a substantial amount of banter and jokes between the panelists and the host.
"Between the writers of the show and the panelists and the host of the show, they turn learning interesting things into true entertainment," Waller said.