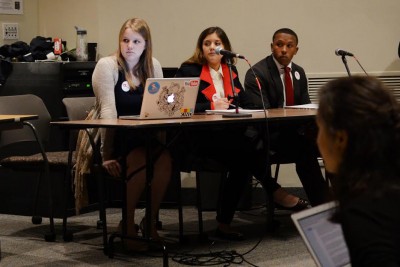 Members of BU Recharged, one of the three slates running in the Boston University Student Government Executive Board election, said they hope to increase advocacy on behalf of the undergraduate population and expand SG's interactions with students through better teamwork.
BU Recharged consists of Presidential candidate Louis Vitti, Executive Vice President candidate Laura Davis, VP of Internal Affairs candidate Anai Sanchez Riveron and VP of Finance candidate Justin Flynn.
Flynn, a junior in the Questrom School of Business, said BU Recharged wants SG to feel more like a team rather than a group of individuals who possess individual agendas.
"You work a lot better with others if you understand what their stake is for the issues and where they are coming from," Flynn said. "I feel a lot of times in SG, people do not see eye to eye in terms of what [are] the real interests of another person."
Vitti, a junior in Questrom, said their new initiative to help SG members work more effectively as a team will focus on the motto of "teaching others to teach."
The community-building initiative includes workshops where leaders from different on-campus student groups will learn how to implement their knowledge into actions, such as alleviating issues of sexual assault on campus, Vitti explained.
"If we have SG working effectively together and every single student group working more effectively together because they're a better community, we're going to be able to do really great things at BU," Vitti said.
Davis, a sophomore in the College of Communication, said BU Recharged believes instances of sexual assault require immediate attention. She also explained that the slate aims to build effective communication between students and the BU administration.
Davis said part of the effort includes reaching out to prominent groups on campus, such as Greek Life, the Center for Gender, Sexuality and Activism and the Sexual Assault Response and Prevention Center to identify current resources and develop comprehensive plans based on students' timely needs.
"What we're lacking right now [is a] lack of conversation," she said. "Opening that conversation … is something that we're really passionate about on our platform."
Riveron, a junior in COM, said the slate also plans to better utilize Expect More, a text message-based survey that gathers BU students' feedback.
Expect More was an initiative SG established in the spring 2015 semester. Though it hasn't been utilized much, BU Recharged sees it as an effective tool to increase transparency between SG and students, SG's constituents, Riveron explained.
"[Expect More] is easy to use, and it's very efficient," Riveron said. "Because it's so easy to use, students will be heavily involved."
Members of BU Recharged said their slate is distinguished from others because they are more diverse in terms of experience, backgrounds and extra-curricular activities. They said they are all actively and extensively involved in different types of organizations around campus.
"We really have a good sense of what different types of organizations around campus are really in need for … and what they're trying to get out of their experience here at BU," said Vitti, who currently works at BU Admissions as an admissions ambassador coordinator. "This diversity of experience allows us to advocate better on behalf of the students."
Flynn said he recognized both his and Vitti's past experience in SG, where they developed the skillsets required for the E-board positions they are competing for.
"[With] the genuine concern for the state of the student body and its interaction within the Boston community," Flynn said, "that adds up to us being a slate who is passionate about BU, a slate who is willing to put in the work and a slate who is willing to listen to students while turning student's concerns … into realistic results."
Riveron said she believes diversity, work ethic and an honest concern toward student life separates BU Recharged from the competition.
"We're a diverse group of students inspired to create positive change with extensive involvement in the campus, and we're prepared to work for the student body," Riveron said. "We come from very different backgrounds, and we have an array of experience in different student groups, and through our time here, we've been very involved."
Though Davis and Riveron have never experienced working in SG, Davis said she believes they can address issues from a new angle.
"Anai and me have unique perspectives going into this," Davis said. "Having so many other experiences on campus, we can bring the fresh perspective that we need. We both have leadership skills that can't be learned."