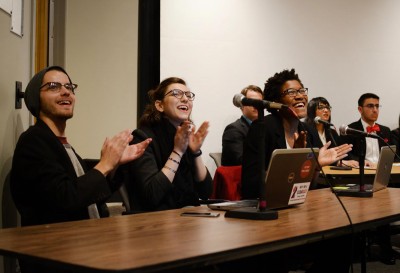 In order to foster an inclusive campus life and a more receptive Boston University Student Government, members of Clean Slate, one of the three slates running in the BU SG Executive Board election, said they aim to mobilize students' power to create visible changes.
Clean Slate is comprised of Presidential candidate Jake Brewer, Executive Vice President candidate SaraAnn Kurkul, VP of Internal Affairs candidate Jane Dimnwaobi and VP of Finance candidate Hanaan Yazdi.
Brewer, a junior in the College of Arts and Sciences, said the name "Clean Slate" comes from the idea to completely start over and change the institutional nature of SG.
"We want to start over by bringing more students into the process, start over by fostering a new relationship with administration, start over with a better relationship with faculty throughout," Brewer said.
Brewer said their concerns stem from the fact that 85 percent of the student body did not participate in previous SG elections or get involved in SG's initiatives. That said, the slate's main proposals include radical changes to SG that "the administration will not like" and that will increase student body involvement, Brewer explained.
"Our goal is to at least get more students involved," Brewer said. "The reason for that is because our policy platform requires a lot of students behind us. We need a lot of students behind us in order for administration to budge on most things."
As a member of the Students Against Silence coalition and the Constitution Reform Committee, Brewer said he was active in the movement to change the SG constitution earlier in the spring 2015 semester because SG has not been transparent and does not reflect the needs of the student body.
"We're running on a heavy SG reform structure, because that's the way it was set up," Brewer said. "SG was set up by a small group in a secret environment, and it was ratified haphazardly."
Brewer said they also aim to change the university's policy on fossil fuel divestment. If elected, Clean Slate would create a student-run Divestment Committee to find alternatives to replace university fossil fuel investments.
"The administration is not looking for alternative investments," Brewer said. "If we want them to do it, then we should take it upon ourselves. That's something that is going to require a lot of student support. What we have been told over and over is we need at least 20 percent of the student body caring about something, or else the administration will not listen."
Dimnwaobi, a sophomore in CAS, said the slate is also in support of increasing benefits and support for adjunct faculty from the student body.
"[Adjunct movements] cannot go very far without students because the administration rely on students being complacent and uninvolved," Dimnwaobi said. "[Adjuncts] are supposed to be here giving 110 percent at their careers every day as college professors."
Dimnwaobi said though there have been several efforts to increase diversity, Clean Slate emphasizes increasing cultural competency on campus to bring students together and celebrate diversity by increasing events on campus.
"Given the racial breakdown and cultural breakdown of BU, there's just so many [social] bubbles," Dimnwaobi said. "We all just need to know and understand how to be one bubble. We really need to see each other because inclusivity is lacking."
Kurkul, a sophomore in the College of General Studies, said Clean Slate's members also push to facilitate better access for disability services, as the services are currently understaffed.
"The system here is really too hard to work with," she said. "We're focusing on changing the system so students with disabilities can have easier access to the educational materials and tools they need."
Clean Slate's members said none of the candidates have directly participated in SG before, but they all came together with a similar passion for change in SG. Dimnwaobi was also a member of SAS with Brewer; Yazdi, a sophomore in CAS, was also involved in the CRC; and Kurkul served as the president of the CGS Student Government Association.
"We have an outside perspective," Kurkul said. "We have new and fresh ideas on what needs to be changed."
If elected, one challenge Brewer said the slate might face is the possibility that the administration will "obstruct" its platform proposals.
"If we're working against administration, it will be a lot harder and a lot angrier than it needed to be," Brewer said. "We're just trying to make this university as great as it can be for everyone."