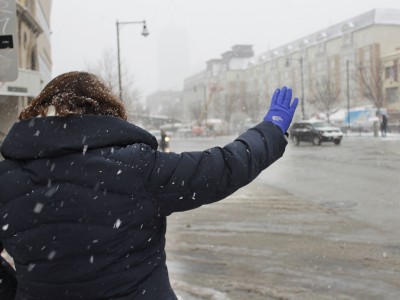 United States District Court Judge Nathaniel Gorton gave Boston Mayor Martin Walsh's administration six months to change the way the city regulates taxis and ride-hailing companies, such as Uber and Lyft, according to Judge Gorton's Thursday court order.
In his order, Gorton wrote that these changes have become imperative as transportation network companies continue to rise in popularity.
"As TNCs become more prevalent and their existing operational structure becomes an engrained segment of the transportation-for-hire market, amending the existing regulatory structure to address TNCs becomes mandatory," Gorton wrote in the order. "Further, as the value of plaintiffs' medallions wanes, the medallion financing market has begun to collapse, threatening irreparable harm to the ability of holders of individual medallions to continue operating in the industry."
Gorton described how TNCs are still not governed by Rule 403, which regulates taxicabs.
"… the Commissioner issued a comprehensive set of taxicab regulations under Boston Police Department Rule 403," Gorton wrote in the order. "Rule 403 defines a taxicab as '[a] vehicle used or designed to be used for the conveyance of persons for hire from place to place within the City of Boston.' Since its inception, Rule 403 has not been applied to livery vehicles, despite the fact that the rule's broad definition of a taxicab would seem to encompass them."
Gorton also detailed in the order that he will require feedback as to what the administration will do to change regulations for TNCs.
"The Court will direct the defendant City of Boston, on or before September 30, 2016, 1) to inform the Court what changes … it intends to adopt regardless of the status of the state law at that time and 2) to show cause why this Court should not enter a preliminary injunction ordering the City to apply Rule 403 to TNCs," Gorton wrote in the order.
Bonnie McGilpin, spokesperson for Mayor Walsh, wrote in an email that the law department is still reviewing the judge's decision to see how it will impact Boston.
Larry Meister, manager of the Independent Taxi Operator's Association, explained that the decision was applauded by the taxi industry.
"We've been running by these regulations since they were put into place, so it's only fair that TNCs should too," Meister said. "The city and the state have allowed the TNCs to operate without any kind of regulation. I understand that they're very popular, that people like them, but just because people like something doesn't always mean it's right."
Meister explained that some of the regulations with which the taxis must comply include full insurance, lettering and numbering on vehicles, inspections twice a year by the taxi division, fingerprinted drivers and reference checks. Meister said all of these regulations have been put in place to "protect the public."
Many Boston residents said even though they frequently use Uber or Lyft, they view this court ruling as a leveling of the playing field.
Will Liberti, 26, of Fenway, said he imagines the city would want to enforce on TNCs the same regulations that are placed on cab drivers.
"I would kind of hope that cab drivers and Uber drivers would have the same regulations since they do the same thing," he said. "So if Uber drivers are avoiding those for whatever reason, either they need to re-evaluate what the rules are or enforce the rules on the Uber drivers."
Lynsey Bourquin, 25, of Allston, said she chooses to use Uber on the weekends because it's convenient and she heard the company treats its employees better.
"I just don't necessarily trust the taxi companies as much," she said. "I've never had a bad experience with an Uber driver. If anything, they've been extremely helpful."
Julia Kerner, 28, of Allston, said she uses Uber every day to get to work.
"Every so often it's a little questionable, but for the most part I've had good experiences," she said. "I think that things are changing, things are evolving, and that legislation has to sort of change with the times."