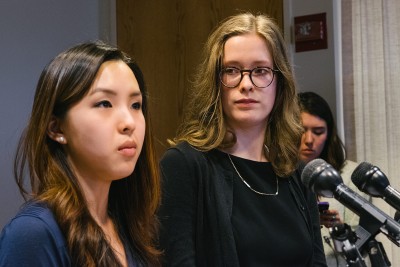 Two women — one Boston University junior and one former student — filed a lawsuit in Suffolk Superior Court Tuesday in which they claim that sexual harassment from a BU College of Fine Arts professor and that BU improperly handled their complaints.
The 39-page complaint alleges that Eric Ruske, an acclaimed horn player and BU professor, harassed the two plaintiffs, Maria Currie and Erin Shyr in 2013 and 2014, respectively. Currie attended BU and transferred to the New England Conservatory, and Shyr is currently a junior in the College of Fine Arts.
When Currie encountered Ruske during her freshman year at BU, Ruske had "developed a reputation for making offensive, vulgar, and sexually charged statements to students, both during group rehearsals as well as during one-on-one encounters," the complaint stated.
Ruske made inappropriate comments to Currie in personal meetings and over text, asking Currie repeatedly to send photos of herself, the complaint claimed.
Ruske then sexually harassed Shyr via email during her freshman year, according to the complaint. He requested for nude photos of her over spring break, the complaint stated.
In a press conference Tuesday, Shyr said Ruske's actions had a tremendous effect on her. She said she once saw someone on the street wearing a similar coat as Ruske's, and it terrified her.
"This man viewed me as a sexual object," Shyr said.
Shyr notified BU administration and met with Assistant Director of Equal Opportunity Eleanor Druckman and CFA Senior Assistant Dean of Enrollment Patricia Mitro on April 14, 2014, the complaint stated, and Shyr showed them the emails Ruske had sent.
Shyr received an email from Druckman on May 19, 2014 that stated the administration found "Ruske's conduct was inconsistent with BU's policies," according to an exhibit attached to the complaint.
Ruske remained as Shyr's professor for the rest of semester, the complaint stated.
Ruske did not respond to voicemails and emails from The Daily Free Press requesting comment.
BU's Equal Opportunity Office said Druckman is out of office until April 19 and is not available for comment.
"I doubt whether my experience was valued at BU," Currie said during the press conference. "[The administration's] response has always been quite lukewarm."
BU spokesperson Colin Riley said in an email that the university cannot yet comment because it has not yet read the complaint.
"As far as we know, [Ruske] is still continuing to operate in his present position [at BU]," Carmen Durso, the lawyer for Shyr and Currie, said in the press conference. "He is on sabbatical, but we do not know where."
Correction: The second-to-last quote in this brief was previously misattributed to Shyr rather than to Currie. The version above reflects this change.