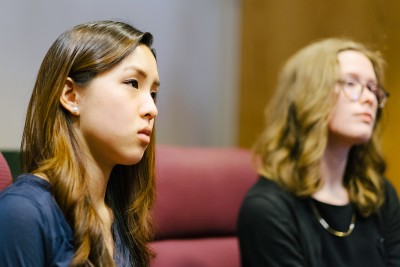 The two women who sued a Boston University horn professor for sexual harassment said Wednesday that they hope the lawsuit will change the university's administrative culture that "tolerates and even condones sexual harassment and assault."
Erin Shyr, a junior in the College of Fine Arts, and former CFA student Maria Currie filed a lawsuit Tuesday against their former professor, Eric Ruske, for allegedly sexually harassing them. They sued the university itself for purportedly failing to comply with Title IX regulations and mishandling their cases, The Daily Free Press reported Tuesday.
"Our lawsuit offers BU an opportunity to lead by example by treating sexual harassment and assault as a serious problem rather than as a public relations inconvenience," Currie, now a senior at the New England Conservatory, wrote in an email.
The lawsuit can show the public how difficult it is for students to file complaints against professors in institutions "broken, self-serving system that has drastically deviated from its originally purpose," Currie wrote.
Ruske is a world-renowned horn player and educator who has been teaching at BU since 1990, according to his faculty page on the CFA website.
"Quite a few people like Ruske," Shyr said in a press conference Tuesday. "We thought we did at first, because he seems like someone who is very invested in our education … and then we found this insidious part of him that not everyone knows until now."
Currie and Shyr said in the press conference they were subjected to inappropriate comments, hugs and kisses on the cheek and incidents of online verbal harassment from Ruske. Several times, Ruske asked them for pictures of themselves over email and text message, according to the lawsuit.
Currie said that in a private meeting, she wanted to receive feedback on her playing, and Ruske made inappropriate comments.
"He talks loudly [and makes] lots of eye contact," Currie said in the press conference. "He sits closely, and during this meeting he wanted to describe how … my playing wasn't as exciting as it should be. He told me, 'Your playing is like I'm having sex with you, but you're not doing anything. You're just laying there.' I didn't know how to react to that. It was kind of like an out-of-body experience."
Shyr said she felt anxiety after the alleged harassment, and feared seeing Ruske at any time.
"I thought about quitting [music] a while ago," Shyr said. "It's tough to walk into the School of Music. You do not know where he is, but you can hear someone playing the horn or hear his laugh down the hallway. If it's getting louder, he's getting closer."
Both students said they went to BU's Title IX coordinators for help, but they didn't receive the attention they deserved, they claim.
"Ruske has fault because he violated his powers as a professor repeatedly without any sense of remorse or understanding of the gravity of the situation," Shyr said. "[But] BU is at fault for creating an environment and culture that is invasive and abusive towards students."
Currie said that upon her visit to the Title IX office, the administration seemed more concerned with Ruske, not her.
"[Their response] has always been quite lukewarm," Currie said during the press conference. "It would've been really nice if BU listened to me. It would've been really great if BU decided the safety of their students was a priority. But I don't feel like they did either of those things."
BU spokesperson Colin Riley said in an email, "our general counsel will need to have time to review the complaint before we determine if we will comment."
BU Dean of Student Kenneth Elmore declined to comment.
Ruske, BU Title IX Coordinator Kim Randall, Assistant Director of Equal Opportunity Eleanor Druckman, and CFA Deputy Title IX Coordinator at the time Patricia Mitro — all of whom were mentioned in the complaint — did not respond to requests for comment from The Daily Free Press.
The Survivors Network of those Abused by Priests, a support group for clergy sexual abuse victims, released a statement Wednesday regarding the complaint. The group mentioned that Ruske was scheduled to perform with the Wyoming Symphony Orchestra Sunday for its season finale, and called for his suspension from the show.
Erin Helms, Wyoming Symphony Orchestra's program and event manager, said Wednesday that they replaced Ruske in the show.
"The Wyoming Symphony takes the allegation very seriously, and Mr. Ruske will not be joining us on stage this Sunday," Helms said.
SNAP Director David Clohessy said the organization decided to address the complaint because they intend to help anyone who was affected by abuse.
"We try to help every victim we can," Clohessy said. "We're particularly interested in cases of abuse and harassment in institutional settings … whether it's a coach, university, summer camp, the dynamics and the devastation is remarkably similar."
Rachel Bailey, Wyoming Symphony Orchestra's executive director, wrote in an email that they are not taking a position regarding the truthfulness of the women's allegations. The performance was cancelled, she said, because the accusation caused "significant negative attention" on them and Ruske.
"We also feel that Eric Ruske needs to have this time to address these allegations and the fallout therefrom without having to focus on a weekend of performances so soon after the allegations became public," Bailey wrote.
Some BU students said the university is responsible for raising awareness of sexual assault on campus, while others said the university should not take the blame.
Kathryn Connolly, a sophomore in the School of Education, said she was surprised to hear about the case, and was disappointed the case had not received wider attention in the university.
"I'm not sure if this is something that has ever happened before, and I hope it's not," Connolly said. "The fact that students are unsafe is really scary."
Dustin Gubernick, a freshman in the College of Arts and Sciences, said the university needs to publish more information on the issue.
"Students in college are supposed to have a good relationship with their professors," Gubernick said. "Since this is such an ambiguous problem, [revealing] more information and stressing this issue could be a possible solution."
Paulina Makkos, a freshman in the College of General Studies, said BU shouldn't be blamed for the incident.
"[The party-at-fault] is the professor, especially since he's the mature person in the situation," Makkos said. "But [sexual harassment] is a two-way street, so it's the professor's fault and the students' fault at the same time. But BU shouldn't be blamed and consequences should be there for the actions."
Alex Li contributed to the reporting of this article.