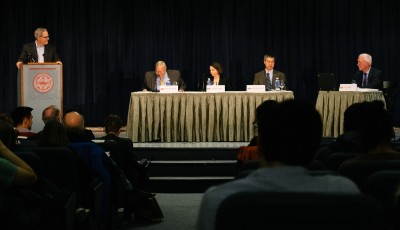 Many Boston University students as well as faculty and staff members have been active advocates for BU to divest from fossil fuels over the recent years. Advocacy efforts led the Advisory Committee on Socially Responsible Investing to consider a divestment recommendation to the Board of Trustees in 2014.
The ACSRI decided to review the issue of fossil fuel divestment on Dec. 10, 2014 following a petition endowment signed by 245 faculty members demanding the university to divest from oil, gas and coal companies.
"This process [to consider divestment] at BU has been quite remarkable," said Edward Loechler, a faculty member in Divest BU. "In the course … of thinking about divestment, [people on the ACSRI] have become much more aware of how serious this issue is."
Students have made multiple efforts to highlight the issue of fossil fuel divestment. In a referendum brought about by Divest BU's student members in April 2015, 75 percent of 2,591 students answered that BU should divest from fossil fuel. A rally and a number of conversations between students, faculty and staff also argued in support of fossil fuel divestment.
The most recent Divest BU initiative was to invite students to speak up for divestment by sending a uniform emailed statement to Richard Reidy, chair of the ACSRI.
Loechler, a biology professor in the College of Arts and Sciences, said he applauded the committee's decision to present three recommendations to the Board of Trustees on April 15 in regards to the university's efforts to reduce its carbon footprint.
The ACSRI recommended that the university divest from companies that continue to "explore new fossil fuel reserves or that extract coal and tar sands," according to BU Today. The committee also suggested that the university develop a detailed Climate Action Plan to outline plans and goals that would increase "the amount of energy sourced from green alternative power producers … and energy use efficiency to reduce power demand," according to a document of the recommendations published online by BU Today.
"This is BU's chance to stand up and say in the strongest, clearest, most rational way possible that we cannot stand with the fossil fuel industry," Loechler said. "Not enough is being done, and the reason not enough is being done is because the fossil fuel industry is spending millions of dollars on a disinformation campaign."
Ben Thompson, a third-year student in the Graduate School of Arts and Sciences and a student member of the ACSRI, said part of the committee's decision is to draw a line of where fossil fuel exploration becomes limited.
"No other institution has considered using this standard … [this] will still allow for the industry to change course and start truly supporting climate action," he said. "Most other institutions will divest from the exploration, extraction and transportation of fossil fuels."
Carson Robers, a senior in CAS and another student member of the ACRSI, noted that [email protected] was a valuable resource for the ACSRI in terms of determining what role BU ought to play in mitigating the social and environmental harms of climate change.
"[email protected] will play a role in drafting the Climate Action Plan," Robers wrote in an email. "Otherwise [email protected] will continue to work with the budget they have to reduce BU's environmental footprint as much as possible."
BU reached its goal to reduce 25 percent of its greenhouse emissions by 2020 in July 2014, six years ahead of schedule, the [email protected] website states.
According to Robers, BU students can consciously control how their actions affect the future of climate change and "ask more of ourselves, ask more of each other, ask more of our university and ask more of our elected officials" on the best way to respond to it.
Loechler said continuing to burn fossil fuels will result in the increased frequency of extreme weather events, sea level rise and a number of environmental problems. It's estimated that 20 million people living on coastal areas in the United States won't be able to live there in the future, Loechler said.
"We're at an elevation close enough to sea level that we're going to see these affects," Loechler said.
Several BU students shared their opinion on the recently submitted recommendations.
Chris Giunta, a first-year graduate student in the College of Engineering, said bringing forward people who understand investments in green technology is important.
"I don't think that's 100 percent their responsibility, but I feel [BU] should divest from emission-heavy sources of energy," he said.
Lauren Cosio, a freshman in CAS, said there are still more things to be done in order to reduce BU's carbon footprint.
"BU does have several sustainable practices," she said, "but there's always room for more improvement, and specially on such a large campus."
Rachel Eckles, president of Students for a Just and Stable Future, said as a student member of Divest BU, she was "in the dark about this recommendation," though she agreed it was a "great" first step.
"We want to know if this stance our school is recommending is actually significant," said Eckles, a junior in CAS. "If it's not, critics could call out our school and by saying that this is a 'talk is cheap' situation, like an easy way out."