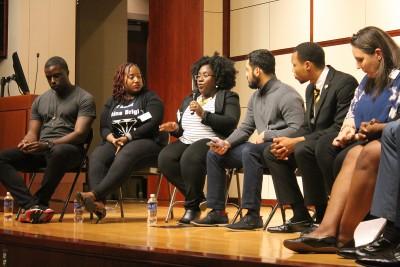 College students from Greater Boston gathered Friday and Saturday at the inaugural BUnited conference, a Boston University student-run symposium geared toward fostering discussions about diversity and other social issues.
Approximately 70 students came to a panel in the Questrom School of Business Saturday afternoon, following a workshop breakout session that was part of the two-day conference. The Saturday schedule included seven workshops, which were led by industry professionals, professors and fellow students. Attendees were given the opportunity to attend two out of the seven sessions, said BUnited spokesperson Gabriella Vasquez.
The workshops were designed to provide safe spaces for students to talk and learn about different types of diversity, Vasquez, a senior in the Sargent College of Health and Rehabilitation Sciences, explained before the panel.
"[The topic] today is about race, gender and sexuality as well as physical and mental health," Vasquez said. "We want to talk about the intersectionality of all those things and how we could be progressive toward accepting all those different notions."
Vasquez also said BU students need to accept and acknowledge each other's differences, especially because the university is home to a diverse population.
"There are people here who come from different backgrounds, and we just have to be more willing to have conversations with people who don't have the same experience as we do," Vasquez said. "Everyone is different, and that's not a bad thing."
As attendees were only able to attend two of the workshops, Vasquez said the panel would allow all attendees to "get a feel" for parts of the conference they did not experience.
"It's a time to come together and debrief about everything we've learned today," Vasquez said.
William Belt, a senior in the College of Communication and president of the BU Black Student Union UMOJA, opened the panel discussion by talking about some of his own experiences as a student.
"It's difficult being a person of color coming to college," Belt said.
Sophie Godley, a panelist and a professor in the School of Public Health, said she worries about BU students of color and their mental health.
"It's really hard for students of color to thrive here," Godley said during the panel. "We have a lot of mental health issues on this campus, and it breaks my heart that we have to have a tragedy before we can have a conversation about that. For a lot of students of color [whom] I've talked to, it's really hard for them to ask for help."
John Hope, a panelist and hip-hop artist from Providence, Rhode Island, said if the students wish to support each other in the community, they should focus on remaining curious and open-minded.
"[Curiosity and open-mindedness are] the building block[s] to enact lofty change," Hope said during the panel. "Take one day to sit at a different table or interact with someone that has a different background."
Several student attendees said though they were satisfied with their experiences at the BUnited Conference, their work as diversity proponents is far from over.
Monique Atkinson, a sophomore in COM, said she was impressed with the conference and loved the workshops, but she wished more people on campus came to the conference.
"I hear a lot of complaints on campus about how we don't talk about diversity or mental illness or gender and sexuality, and that the administration does not really do anything about it," Atkinson said. "I do think everyone cares, but it's important to be present if you have something to say."
Jamil Williams, a senior in Sargent, said the BU administration should do more to sponsor gatherings like BUnited.
"It's sometimes hard to get behind BU as a student body," Williams said. "BU needs to put an added emphasis on student life, and that could trickle down to minority student life, which could have an effect on how many minority students actually come here."
Carla Thillet, a sophomore at Northeastern University, said she experiences similar issues at her school, but she believes the student body can bring about changes even without the help of university administration.
"We need to be more persistent in making sure these events happen, because even if you can impact one person, that spreads and makes a difference," Thillet said. "Voices need to be heard, and there's power in numbers."