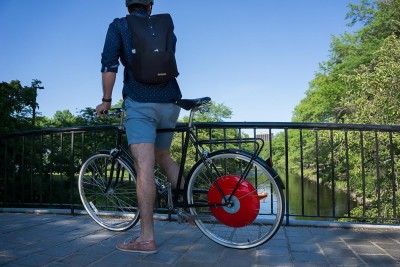 At the Matriculation Ceremony Sunday, Boston University President Robert Brown challenged the Class of 2020 to do whatever they could to combat climate change. Many students have already taken up his advice by riding their bikes around BU's campus and the city of Boston instead of taking public transportation or using services like Uber.
Rebecca Gausepohl, a junior in the College of Arts and Sciences, bikes to her job at the Massachusetts Institute of Technology instead of taking public transportation because it is faster and more ecologically friendly.
"It's a great alternative to using the T, especially just to get around campus," Gausepohl said. "BU makes it very easy and accessible to park your bike anywhere — there's tons of racks."
Nathan Phillips, a professor in the Earth and Environment Department, agrees that BU does a fairly good job of encouraging students and faculty to ride their bikes. He noted that during move-in this past weekend, for example, the Boston University Police Department put down cones to clearly mark bike lanes.
"I think the BU transportation system has done really well," Phillips said. "That's the kind of thing that makes me so proud of BU."
Phillips said students should ride their bikes not only because it is good for the environment and riding around BU's campus is safer than it may seem, but biking is also a great way to get exercise.
"Biking is so good for you in so many ways," he said. "I think that the sustainability initiative has made amazing strides."
Phillips said some students might not want to bike because of the physical exertion it requires. New technology, however, including electric assist attachments and hybrid electric bicycles, could make it easier for people who have long commutes, including students, to ride their bikes.
Yash Jain, a freshman in CAS, rides his bike around campus and through the city of Boston not only because he likes to bike, but because it's more efficient than taking public transportation.
"If there was a mechanism that made it easier, more people would be willing to ride their bikes because it's not as tiring and it's not as much effort," Jain said.
One such electric assist attachment is the Copenhagen Wheel, invented at MIT in 2013 and now available commercially through the company Superpedestrian. The Copenhagen Wheel is a mechanism containing a motor, batteries, multiple sensors, wireless connectivity and an embedded control system that can be retrofitted onto the back wheel of most normal bike models and multiplies the rider's pedal power by three to 10 times.
The Copenhagen Wheel "makes hills feel flat and distances shrink," according to Superpedestrian's website. Austin Federa, the community manager at Superpedestrian, said electric assist technology like the Copenhagen Wheel could vastly increase bike usage among a wide range of customers.
"I think that's a really neat prospect, especially in a city like Boston where for an internship — or for any of those things you do that involve different parts of the city — you have to get around," Federa said. "That can be difficult."
Besides just being good for the environment and physical health, biking also helps build communities within larger cities, according to Federa.
"We have this great big city metropolis, but we have neighborhoods that actually feel like neighborhoods and neighbors who know neighbors," he said. "Biking is an important component for supporting those person-to-person relationships within communities."
College students, according to Gausepohl, also might be encouraged to bike more if this kind of technology were readily available.
"I would love to have the help to get up a hill every once in awhile," Gausepohl said.
The Copenhagen Wheel and technology like it could also benefit the elderly or differently abled people, Phillips said.
"It opens up a new accessibility to people who might not have as much physical strength, who maybe rode a bike at one time but just can't get up those hills anymore," Phillips said.
Federa also said that electric assist mechanisms could increase the number of people who ride bikes, especially the growing elderly population.
"There's a lot of people who have some sort of injury or physical disability," Federa said, "and this is something that really helps them be able to ride a bike again and do something that they love doing."