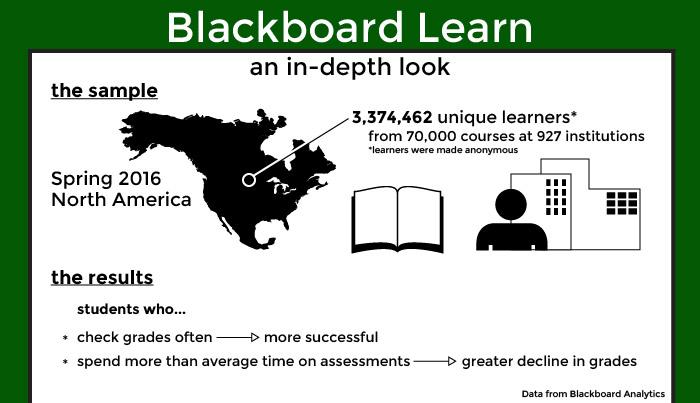 Students who check their grades more often are more likely to get a higher grade in a class, according to a study conducted by Blackboard, the company that provides course management systems to hundreds of higher education institutions including Boston University.
The study, published on Wednesday, collected samples from 70,000 courses at 927 institutions in North America this past spring.
With anonymized data from more than 3.3 million students, Blackboard wishes to shine a light on how big data can shape higher education, the company's Analytics and Research Director John Whitmer wrote in an email.
"This data provides a fine-grained understanding of student behavior," Whitmer said. "It also indicates that conventional educational study findings can be replicated and scaled using data from these learning platforms."
In contrast to the statistic about checking grades, the study found that those who spend more time taking a test or quiz on Blackboard tend to get a lower grade.
"Students who have mastered course material can quickly answer questions," Whitmer said. "Those who ponder over questions are more likely to be students who are struggling with the material."
Brice Scott, a sophomore in the College of Arts and Sciences, said he agrees with Blackboard's findings because students who are more aware of their grades tend be more engaged in class.
"If you're trying to achieve a certain grade or get to a certain level of understanding, keeping track of where you are in the class is definitely a benefit," he said.
Other students said they believe the report only scratches the surface of learning behavior. Sarah Sommer, a freshman in CAS, said the frequency of checking grades is not the only contributing factor to academic success.
"People who are more organized go on Blackboard more often, but there are also other techniques to get good grades," Sommer said.
Jay Zagorsky, an economics professor in the Questrom School of Business, said while he is not surprised by the findings, he prefers to teach students who are genuinely interested in the material, instead of those who are obsessed about grades.
"Students who are constantly talking to me about their grades are the ones that I feel usually get high grades," he said. "But they're the ones that get very little out of the course because they're so paranoid about getting an 'A,' and they never really focus on trying to learn."
Zagorsky said he is also concerned for students' privacy when outside organizations have the ability to check their grades and track their online activity.
"Blackboard actually has access to all types of information they can look at," he said. "So in some ways it's very scary to know my students are being tracked on this kind of level."
In response to The Daily Free Press's inquiry on privacy issues, Blackboard wrote in a statement that they have agreements in place to use and collect data from schools that use their services.
"We take our responsibility to protect the privacy of students very seriously," the company stated. "All of the data used in the study was anonymized so that neither an individual student nor specific school can be identified."
Rachel Philipson, a senior in CAS, said she understands the privacy concerns, but it is a fair exchange for Blackboard to collect data for research while students and faculty use the service.
"Blackboard is a really great way to contact professors and classmates," she said. "There's a lot of advantages, [so] I don't feel like they're invading my privacy by looking at my grades. Hopefully Blackboard doesn't abuse the information; or you would hope that's not the case."