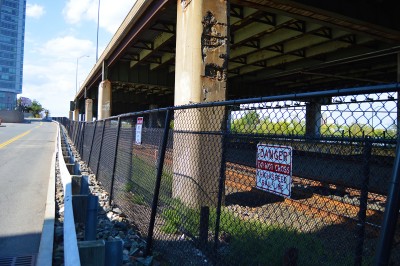 As the Boston University community grieves the death of a 17-year-old BU student from China, many cannot help but wonder how the university can ensure the safety of its approximately 8,500 international students, many of whom are in the states for the first time when they start classes.
Massachusetts Bay Transportation Authority Transit Police discovered a body on the tracks behind 10 Buick St. in the early morning hours of Sept. 7. Transit Police on Wednesday identified the victim as Xianhu Chen, a freshman in the College of Arts and Sciences.
While authorities cannot conclude the nature of Chen's death at this time, preliminary evidence "shows this is a tragic, sad accident," Transit Police Superintendent Richard Sullivan told the Boston Globe. Although the case is still under investigation, evidence does not suggest foul play, and has not been deemed, Suffolk District Attorney spokesperson Jake Wark said.
"You have probably heard that we had a student who died, and you have probably seen news reports saying that student was from China. That is true," BU Dean of Students Kenneth Elmore told a group of Chinese students Friday during a special orientation.
Approximately 200 Chinese students came to the Law Auditorium to attend a special orientation hosted by the BU Chinese Students and Scholars Association, BUCSSA President Zhibo Dang said.
The unexpected tragedy stunned the Chinese student community, Dang said. Not many students had the chance to know Chen because he arrived in Boston just a week before the incident, but everyone feels for his family, the Questrom School of Business junior said.
During the annual Chinese student orientation, one of the main topics was safety, Dang explained.
The university's general orientation also informed the incoming Class of 2020 on student safety, especially on BU's campus and in the City of Boston.
BU Police Department Deputy Director of Public Safety Scott Paré spoke at "Citizen Terrier," an orientation activity that was specifically designed to address pedestrian safety.
"I talked about being aware of [one's] surroundings and taking out earbuds and putting phones away," Paré recounted. "With the music so loud, sometimes you can't hear … vehicles traveling."
Anthony Perry, a junior in the College of Engineering, said the jaywalking culture he experiences on campus is distinctive to Boston, and he understands how it might be difficult for students from other countries to get used to.
"When I was [studying] abroad in Spain [in the Spring 2016 semester], no one ever jaywalks," the Boston native said.
New international students may experience cultural differences that pose additional challenges for them, Paré said. However, domestic students who are from small towns might share the same sentiment, he said.
"Commonwealth [Avenue] is a unique place where before you cross, you really have to look both ways for a bike, and then cross two lanes of travel, and then watch out for trains coming both ways and then do it all over again," Paré said.
When it comes to keeping students safe outside of BU's campus, Paré said, rail tracks behind the university are surrounded by fences — people would need to climb over the fences to get to the rails. However, the rail tracks and its direct surroundings belong to the City of Boston, not BU, Paré said.
"We try to work with government affairs to address concerns [relating to the tracks]," Paré added. "But that's not an area where any pedestrian should be out on. There's really no reason to be out there."
In addition to having speakers introduce safety regulations and precautions for living on a hybrid campus like BU's, the university also had orientation programs that allowed freshmen to experience life on both BU's campus and in Boston before school started, Director of Orientation Shiney James said.
The mandatory program "Common Ground" took groups of freshmen into the city to get to know their peers from different colleges, while the special event "City Excursions" gave freshmen the opportunity to explore different neighborhoods of Boston, James said.
Sally Kim, an orientation leader, said she made sure students took precautions and used common sense when they were in the city.
"Most of the time, Common Ground was happening during rush hours," the CAS junior said. "There were a lot of other people trying to get to different places, so I also let them know that it was absolutely imperative for them to stick together. It's also for their benefit so they don't get lost in the middle of the city.
Kim said she led student groups in all eight orientation sessions, and the groups could be as big as 25 freshmen. She added that making sure the 3,500 freshmen in the Class of 2020 were "really having a good time and are doing well in terms of transitioning into the university and their safety" was the biggest priority for her and her colleague.
BU has a safe campus, Paré said. But, "things can happen. Some of these international students, they feel a sense of comfort here, but they forget that they're in a large city," he added.