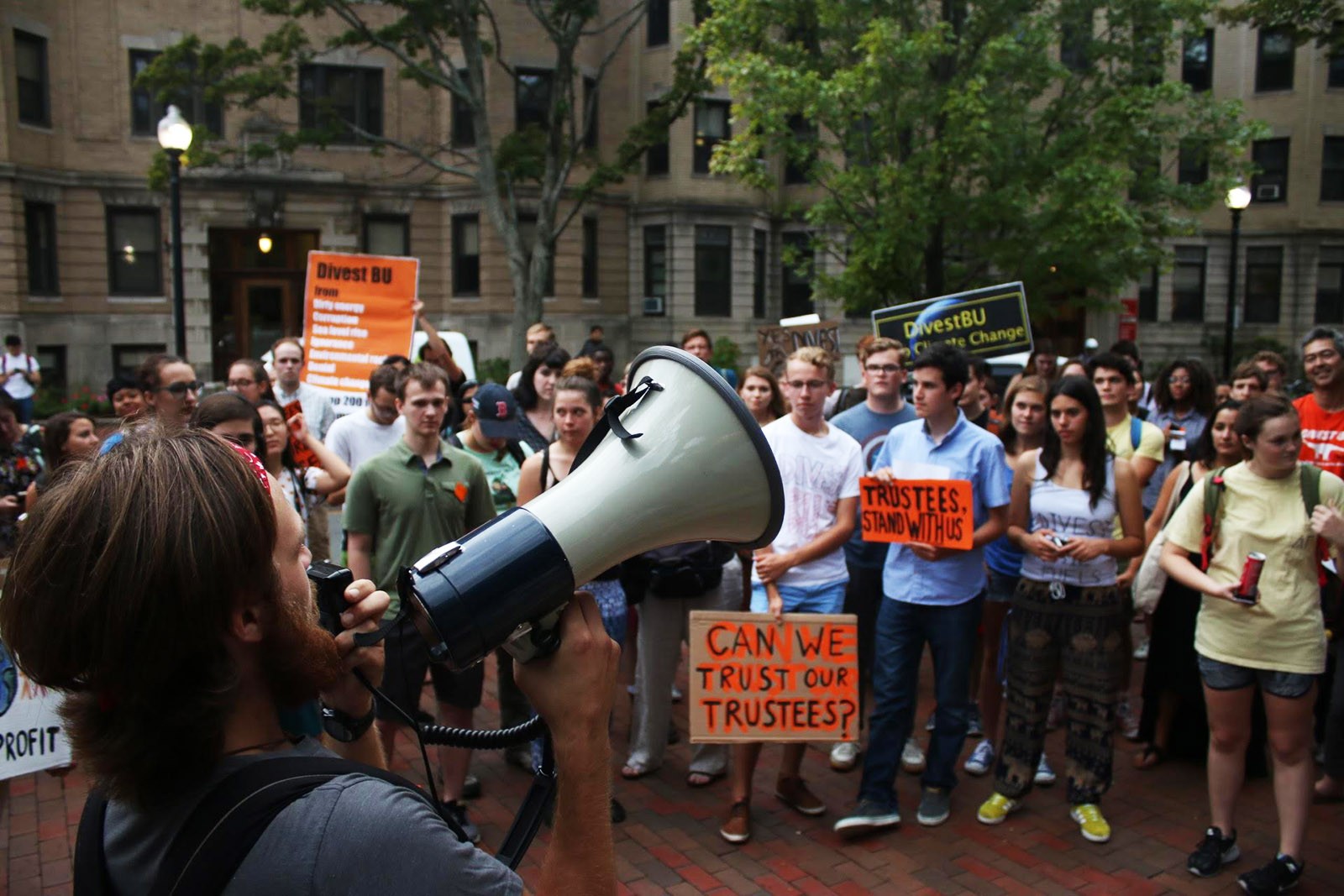 Chanting "no more coal, no more oil, keep your carbon in the soil," approximately 80 members of the Boston University community rallied on Marsh Plaza Wednesday afternoon, urging the university to divest funds from fossil fuels.
Divest BU, a coalition that advocates for divestment movement on campus, organized the rally when they learned that the BU Board of Trustees might make a decision on divestment this week, Divest BU Secretary Masha Vernik said during the rally.
"[BU's] infrastructure in fossil fuel divestment is ultimately corrupt," Vernik, a sophomore in the College of Arts and Sciences, said to the group. "We are here today because we know that the decision-makers we have aren't going to make the right decisions unless we tell them to."
Throughout the rally, Divest BU volunteers handed out pieces of orange felt, the symbol of divestment, for participants to pin on their clothes.
The group of students, faculty members and alumni marched towards the BU Castle, where they believed the BU Board of Trustees was meeting. They then circled around the entrance to the Castle and placed a ballot box filled with slips of paper on the steps of the building — the goal, Vernik said, was to symbolize how participants would vote on this issue if they had the opportunity to do so.
Kalman Gacs, a 2007 College of Fine Arts alumnus, said when it comes to divestment from fossil fuel, BU is lagging.
"It's really pertinent that we do something about climate change, and currently, unfortunately BU, in a lot of ways, is on the wrong side of this issue," he said.
Vernik said the university should take a moral stance on the issue of climate change by divesting from fossil fuels.
"When we take our money out of fossil fuel, it morally discredits [fossil fuel companies]," Vernik said. "We're saying we don't want to give you money because what you're doing is morally abhorrent."
Members of BU Student Government also took a stance during the rally — Jane Dimnwaobi, the SG vice president of internal affairs, said it is important for the Board of Trustees to know what students want.
"If we didn't come here today, the Board of Trustees may not have considered student input, and that's wrong," Dimnwaobi, a CAS junior, said during her speech at the rally. "This decision affects us all. We know it does. Some people here have always known, but today the Board will know as well."
Dimnwaobi said poor people and people of color tend to suffer more from environmental disasters, and board members are less likely to be affected by the effects of climate change.
"I'm sorry, but the majority of the Board of Trustees are excluded from these honorable [poor people and people of color]," she said.
The BU community's effort toward fossil fuel divestment can be traced back to 2014, when a delegation of 245 professors from nearly all of BU's school and departments submitted their petition for fossil fuel divestment to President Robert Brown, The Daily Free Press reported Sept. 10, 2014.
Nathan Phillips, an earth and environment professor, said he is impressed by how many students supported the rally.
"This group of people and the energy that's in this crowd is bigger than I've ever seen at BU," he said. "And it's only going to grow. This movement is unstoppable because it's on the right side of history. I'm just so proud and honored to be part of it."
Desmond Molloy, a sophomore in the Sargent College of Health and Rehabilitation Sciences, said BU should consider investing in other businesses.
"A lot of people will say that climate change is an issue for the future, but it's really happening now," Molloy said. "There are a lot of other industries that BU could potentially invest in. There are other prosperous fields of industry that we could be putting our investment money into [and] don't cause as much harm as fossil fuels."