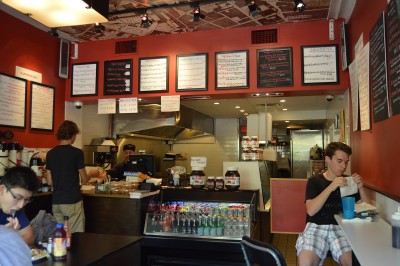 Five months after Crispy Crêpes Café opened at its new location on Commonwealth Avenue, the restaurant continues to thrive, co-owner Brahim Bendokr said.
The eatery has been a student favorite for 13 years before its old store in South Campus closed down last October, The Daily Free Press reported on Nov. 9, 2015.
"At South Campus, we weren't doing great [during] lunches, but when we moved here, a lot more students started coming in for lunch," Bendok said. "They didn't have time to go to South Campus."
Bendok said he wanted to keep the business on the Boston University campus because he enjoys the atmosphere.
"Having the restaurant on the BU campus is great," he said. "I like that every year the atmosphere changes a little. We get new students, and graduates even come back to visit."
Alums and upperclassmen alike were glad to see that Crispy Crêpes Café did not go out of business, like so many other small restaurants, Bendok said.
"I've seen people come into the new location that had been going to the old place years ago, and they were happy that we're still in business," Bendok said. "There are a lot of franchises opening and small businesses like us tend not to survive because we're not as financially strong."
Several students said they are enjoying the convenience of the new location, where they can come during classes, sit down to eat or pick something up on the go.
Devansh Patel, a sophomore in the College of Arts and Sciences, said he frequents the café because he often does not like the food in the dining hall.
"I've been here quite a few times," Patel said. "I live in Warren and I don't usually like the breakfast there, so I just come here."
Patel said he heard about Crispy Crêpes Café from his older friends, who used to eat at the café when it was located in South. Now, he spreads the word to younger peers.
Riya Haria, a freshman in the College of Communication, ate at Crispy Crêpes for the first time after Patel convinced her to try the cuisine.
"I live in West [Campus], so it's really convenient for me to come here [after class] instead of having to go all the way east for some good food," Haria said.
Ryan Gryder, a first-year graduate student in the Graduate School of Arts and Sciences, had a beef shawarma for lunch at the restaurant, and said he enjoyed it.
"It's pretty good," he said. "This is my first time coming here, and I'll probably come again."
Vidur Bhushan, a junior in the Questrom School of Business, had lamb kebab at the restaurant. This was the third or fourth time he ate there, he said, because the deli had a "right flavor balance" that reminded him of some fond memories.
"The price was pretty good, and most importantly, it came really quick," he said. "The first time I came here, I saw that they had something about Marrakech on the wall, and I know that's in Morocco, and my roommate's Moroccan, so I started talking about it. [The owners are] really warm and nice and friendly to me."
Elizabeth Marathas, a senior at BU Academy, said Crispy Crêpes provides a unique culinary experience, and it certainly is an appealing alternative to dining hall food.
"I got the Tuscany Crepe," she said. "It was pretty good. I've never seen food served this way."
Stav Rones, also a BU Academy senior, shared Tuscany Crêpe plate with Marathas. He said he has eaten at the restaurant multiple times and appreciates the variety of sweet and savory tastes.
"I've gotten something very different every time," he said. "Last time, I got a Middle East-style chicken shawarma, and it was really good … You can also get something sweet. So I like the fact that there are a lot of different kinds of food that you can get."