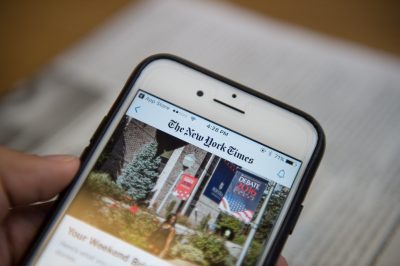 Starting this fall, the Boston University College of Communication will provide free digital access of The New York Times to COM students, faculty, staff and anyone who takes classes in COM, the college announced Wednesday.
The college used to provide print copies of the Times, The Boston Globe and USA TODAY in the COM lobby during weekdays, Dean Thomas Fiedler said. But the administration decided to move to digital this summer because the physical copies often went unread and recycled, Fiedler said.
"It was becoming increasingly apparent to us that the preferred way for students to access the news was not through print on paper, but somewhere digitally, most likely on their own phones," Fiedler said.
Fiedler said that by switching from print to digital, not only does the university cut the yearly cost of $35,000 in half, but students now have far more access to the Times.
"One benefit is having almost instantaneous access to The New York Times' archive," Fiedler said. "Now they have digitally archived every article that has been published since something like 1856, so if you are trying to get a sense about what was in the public's mind 150 years ago, you have access at no charge."
Another advantage to a digital subscription, Fiedler said, is that now students have access to the Times' multimedia components, such as the daily briefings, video content and the virtual reality section.
He added that students can already read the Globe and USA TODAY online for free, and for those who still want the print versions, the COM journalism department offers a limited amount of copies in its office.
Mitchell Zuckoff, a journalism professor in COM, said the college is following "the trend of where everything is headed" in its switch to digital subscriptions.
"Every year we had these boxes filled with newspapers," he said. "Frankly, if [our students] were reading them, they were reading them on their phones or reading them on their computers."
Mackenzie Pena, a senior in COM, said she typically gets her news from CNN updates on her phone, but compared with print, she would be more likely to read the digital version of the Times.
"I normally wouldn't pick up newspapers like that when [COM] did have them," she said. "Normally I would just go online to look at it, so now it's so much better for sure."
Caroline Cafasso, a sophomore in COM, said she believes COM's decision is in line with where print media is heading, especially as more people like her use Twitter and other social media as sources of information.
"Every morning, I usually look at Twitter because I follow people who will link to other stories, or I follow the actual news sources," she said. "That's a pretty easy way to get my information."
Cafasso said she is not sure whether students will take advantage of the digital access.
"I don't know how many people are reading newspapers instead of other types of news sources," she said. "It's still a really good idea for students to have that kind of resource."
Chiara Sander, a first-year graduate student, said that as a new COM student, she was actually looking forward to having access to free print newspapers.
"I didn't even realize we had digital access available," Sander said. "I had a professor [who] told us that we would be able to pick up copies of The New York Times in the lobby here, so I've kind of been waiting for that to appear."