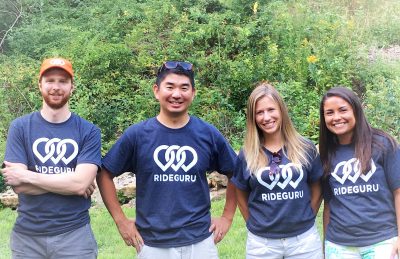 It's 12:11 a.m., the T just shut down, and the all-too-familiar question beckons: How do I get home? For Boston students, the struggle to determine which ride-hailing service to use is a common one. During those late nights in Allston, no one likes calculating whether Lyft or Uber is the cheaper option to get back home. RideGuru works to make this process easier.
The Boston-based initiative, launched Sept. 20, is a comparison website that works to increase transparency in the ride-hailing industry. RideGuru is the brainchild of the company behind TaxiFareFinder's Unleashed, LLC.
Functioning primarily as a fare comparison calculator, RideGuru is a trusty third-party platform created to help travelers, according to Ippei Takahashi, the founder of Unleashed.
"We are trying to kind of demystify the [ride-hailing] industry," Takahashi said. "While [the ride-hailing industry] is very innovative and everyone loves the concept, there's a lot of confusion and mystery. We want to [help] both drivers and passengers alike."
RideGuru reaches 73 different countries and utilizes 11 international ride-hailing services, according to its website. It manages to include local taxi companies and introduce ride-hailing companies that are often overshadowed by Uber and Lyft — Flywheel, Fasten, Curb and others, the press release stated. The end result is a system of alternatives to beat over-the-top "surge pricing" during rush hours.
RideGuru isn't the first platform to try and help travelers find the best deal. Most apps that have tried before, however, have failed.
Previous fare comparison apps take public data and inevitably pit ride-hailing companies against one another, highlighting which services consumers should use. As a result, ride-hailing services revoke access to their public data, or application programming interface, according to Takahashi.
"[Ride-hailing companies] want to open up their API to people who will add value to their platform," said Timothy Simcoe, a strategy and innovation professor at Boston University.
Instead of using a company's API, RideGuru has its own algorithms via Unleashed's TaxiFareFinder, a company founded in 2007. The TaxiFareFinder staff is always looking for the most up-to-date fares by incorporating traffic and population (among other factors), and then calculating distance through Google Maps, according the company's website.
In addition to the fare calculator, the website allows riders to hail drivers straight from RideGuru and see how much of the fare the drivers are actually getting, according to Takahashi. RideGuru's website even states that they "feel as though drivers are the backbone of the ridesharing and ridehailing industry and deserve to be treated as such."
The entire operation brings forth an atmosphere of community.
"We actually have pretty good relationships with Uber and Lyft," Takahashi said. "[They] use our websites. There's a mutual understanding there and a great partnership there."
Similarly, Simcoe said he sees RideGuru as a neutral player within a competitive atmosphere.
"It encourages competition between ride-sharing platforms, and I think that's a good thing for consumers," Simcoe said.
"It's a mobile optimized website," Takahashi said, so it's easy for consumers to open and use on any smartphone's internet service. The company is also working on an app, which will likely be released later this fall.
The website plans to expand their "Ask a Ride Guru" community, in which people ask questions to experts, according to Takahashi.
Members of the Guru team respond, led by Harry Campbell, "The Rideshare Guy," an Uber and Lyft driver and the writer behind the popular website "The Rideshare Guy." RideGuru is looking to create more of a forum, so that any knowledgeable riders and drivers can respond to other riders' and drivers' questions regarding the ride-hailing industry. The "Ask" feature is open to any questions, and has so far offered answers to location specifics, pet policies and individual RideShare rule queries.
"Rideshare is a new and innovative form of technology and we know that people have a lot of questions," Campbell wrote in an email. "My goal is to help passengers and drivers a like feel more comfortable and knowledgeable about the rideshare industry."
The underlying mission of RideGuru is transparency in the rideshare franchise, for both riders and drivers. The company is a firm believer in putting a stop to the "#TakenForARide" hashtag.
"Here," Takahashi said, "the idea is that we're trying to kind of demystify the industry."