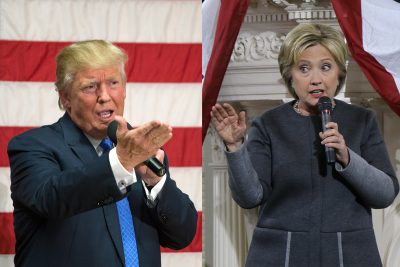 Approximately 70 students gathered at Boston University Central Sunday night to watch the second presidential debate together on a big screen while eating pizza and cookies. A diverse range of students debated and vocalized their opinions while watching Republican nominee Donald Trump and Democratic nominee Hillary Clinton spar Sunday night.
The viewing was hosted by the Gamma Chapter of the Omega Psi Phi fraternity, in partnership with Brothers United and the Howard Thurman Center for Common Ground's Student Ambassadors.
Darien Long, a member of Omega Psi Phi, said he aims to encourage students to be active in politics. As part of the fraternity's national program, absentee ballots were provided during the viewing.
"This is the future of our generation that's sitting out here," Long, a junior in the College of Communication, said after the debate. "Definitely targeting this specific age group is immensely vital. Imagine all of these kids actually showed up to vote."
Long said the issues students should be informed on when watching the debate include education, student loans and solutions to racial strife.
"Students should be informed on the issues that pertain to them," Long said. "Our candidates should be focused on this age group."
This is the third debate viewing party the fraternity has held this semester, and they plan to hold another one for the final debate with improvements based on student critiques, Long said.
Several students said such viewings are essential in encouraging students' political participation, though the debate lacked substance in candidates' responses.
Linda Zuckerman, a freshman in the College of Arts and Sciences, said the debate viewing was beneficial to students, as it exposes the debate more holistically and avoids students misinterpreting media reports.
"I used to just look at certain clips of the debates, so it could be taken out of context," she said. "It's easier when you're just scrolling down Facebook, and it just has all the best passages on one thing, but you don't get full context."
Efe Torunoglu, a sophomore in CAS, said the political atmosphere in the viewing's attendees leaned more to liberal views — the opposite of what he witnessed at the first debate viewing hosted by Fox News and Common Sense Action at BU.
"You tailor your opinion to people around you … You want to conform rather than becoming an outcast," Torunoglu said. "When you watch [a presidential debate] on a fairly liberal college campus with fairly liberal students, there isn't much discussion, and people are cheering and rooting for the same thing."
Torunoglu said although he is "fairly undecided" on his presidential choice, he is leaning toward Trump.
"It comes down to corruption versus ineptitude, and which one you see as the lesser of two evils," he said. "I prefer Donald's 'America first' platform over Hillary's 'herself first' platform."
Katherine Walker, a senior in CAS, said she came in with "pre-formed opinions" and was among those watching the debate for entertainment. She found the whole debate "very strange."
"It was actually pretty ridiculous — I've never seen a debate that ridiculous before in terms of how insulting they were to each other and how scrappy it was," Walker said.
Walker, a Clinton supporter, said women's rights is one of the social issues that the government needs to work on.
"General inclusiveness and rights for everyone is very important — having a president who represents all groups and wants to include everyone and doesn't want to exclude certain people," she said.
Andrea Di Fabio, a first-semester graduate student in the Graduate School of Arts and Sciences, said contrary to political campaigns in Europe, American presidential candidates tend to focus more on image than content.
"It's very important to speak together, to exchange ideas," Di Fabio, an exchange student from Italy, said. "This is what democracy is: to have free public debate."