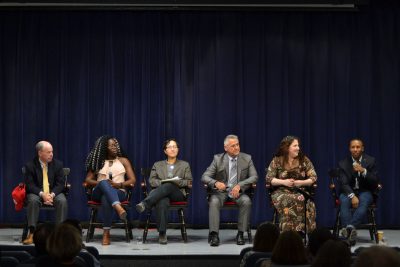 This weekend, Sheri Ruffle drove eight hours from Virginia to visit her daughter, a freshman in Boston University's College of Fine Arts, and to attend this year's Family and Friends Weekend.
"My daughter thinks [school] is going well with us not on top of her, and I just want to make sure of that," Ruffle joked.
Ruffle was among 70 parents and friends who attended the "Let Go, but Keep in Touch" panel Friday afternoon. Sitting in the George Sherman Union, they listened as a panel of six answered parents' concerns and addressed where first-year students may find resources at a large university.
As the discussion began, parents asked the panelists questions pertaining to their kids on topics including safety, healthcare, academic resources and homesickness.
Acting BU Police Department Chief Scott Paré answered all questions regarding safety, while the rest of the panel collaborated for the remainder.
Throughout the discussion, attendees took notes on what the panelists and fellow parents were saying.  At times, the parents were able to answer one another's questions without any input from the panelists.
"I love when other parents are jumping in and giving their perspective to others' questions," Associate Dean of Students Steve Singer, who was also a panelist, said after the discussion.
Other panelists included Associate Director of Disability Services Stacey Harris, Director of the University Service Center Kristine Gilchrist-Minasidis, College of Arts and Sciences junior Josephine Amusa and Questrom School of Business senior Justin Flynn.
Katherine Cornetta, assistant to the dean of students, said after the discussion that the university hosts "Let Go, but Keep in Touch" every year for Family and Friends Weekend because parents can get both the student and staff perspectives to their questions.
This year, for the first time, the panel was livestreamed via the BU Parents Program Facebook Page, where the panelists can reach parents that weren't able to attend the program.
Christina Loring, the director of the Parents Program, said parents who live too far away and could not make this weekend's event, could not only have access to information they otherwise may have missed, but they could also comment questions on the livestream and participate in the discussion. 
Cornetta said 407 people watched the livestream and 23 commented.
"There are so many questions since it has only been six weeks," Loring said. "They're still going through a transition, and perhaps the parents are going through the transition just as much as the students."
For parents who were able to make it, they said the event helped them understand their children's life at BU — Izabel Amorim, who came from Brazil to visit her freshman daughter in CAS, said that students and parents often share the same questions about college life.
"A lot of times, parents have the same questions that you think about," Amorim told The Daily Free Press. "Things they are afraid of, you [are] afraid of. There is a big difference between high school and college."
Jeff Kaufman, who traveled from California with that his wife to visit their son, a Questrom freshman, said that it's nice for parents to see that their children aren't alone.
"The students are experiencing the same problems, whether it be homesickness, confusion, or what to do when you're on your own," Kaufman said. "Even though everyone tells you to be an adult, it's almost like you're being thrown into a swimming pool for the first time and you don't know how to swim."
For Ruffle, the panel discussion was not only an opportunity for her to consult with the administration, but also a chance to exchange tips with fellow parents.
"I took what some of the other parents were saying, and what some of the other student helpers were saying," Ruffle said. "I wanted to be reassured that it seems OK [for my daughter]."