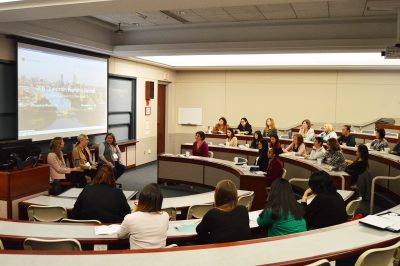 The Questrom School of Business held this year's Questrom Women's Summit: From Classroom to the Corner Office Saturday afternoon with a special session, "Be a STEM Woman: Why Math and Technology are Essential to a Woman's Career."
Questrom professor Rachel Spooner, who co-organized the event with fellow professor Kabrina Chang, said the idea for the event came from other universities' women's summits and from alumni feedback.
"We reached out to our own alumni networks and asked 'What's important to you right now?'" Spooner said prior to the lecture. "The role of technology in women's professional lives came up again and again."
She stressed that this event was important particularly because it was a way to connect the alumni network with students.
"Our obligation to help students grow, learn and be engaged continues after they graduate," Spooner said.
Approximately 25 attendees, ranging from current students to past alumni, listened to the STEM session. The panel of speakers shared their life experiences after college.
Converse U.S. Business Planning Director and panelist Kim Edwards said she taught herself the information she needed to know, but that this is "not an option for women anymore" in the field of technology.
When asked how women can make the leap from a science background to a business background, Edwards encouraged the crowd to start networking and take a sales course.
Google for Education Content Manager, Karen Greenleaf, echoed Edwards, saying networking "will come more naturally than you think."
The panelists encouraged women to be unafraid to ask questions and to be uncomfortable — TripAdvisor Project Manager  Lauren Fragoza said women should be aware of the atmosphere.
"Ask clarifying questions in meetings, or if everyone seems to know what they're talking about and you don't, ask after the meeting," Fragoza said.
The panel also discussed how they hire for positions in technology in their respective companies. Greenleaf said she looks for "those who take initiate to solve a problem and teach yourself."
For women who are interested in learning coding, panelists said they should start by getting introduced to the technology world, using SQL and Codecademy.
Several BU alumni after the panel discussion said as women in business, they appreciated the importance of a technological education.
Joanna Yen, a 2014 School of Management graduate who now works in New York City, said people should put more effort into better understanding the fast-paced technological field.
"You better know the basics of computer science and know how to adjust to changing technologies," Yen said. "I don't really know what's going to happen in the next three years, but it's going to be a huge increase in machines, and machines are going to start to replace humans. [We have to] be smarter than the machine."
Lauren Miller, a 2014 College of Arts and Sciences graduate and a Boston resident, said that on a basic level, both scientists and businessmen and women should "understand how to speak to each other and understand the terms of our respective fields."
Emily Fletcher, a Graduate School of Management Class of 2014 alumna who now lives in Cambridge, said women should see the importance of data in their companies.
"I got here because I understand data," Fletcher said. "I climbed the ladder by finding faults in data."