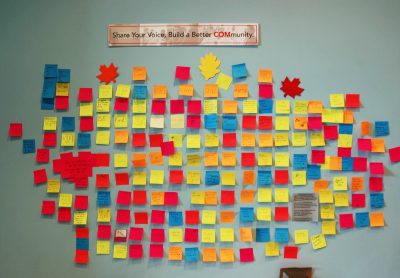 The post-election trend of posting sticky notes on walls has stuck on the Boston University College of Communication. Students and faculty have contributed to the "Wall of COMmunity" and posted positive and inspirational messages on the wall, located in the building's main lobby.
COM Dean Thomas Fiedler said it was an ideal initiative to have the wall in COM, a school in which "people are good at expressing themselves in very few words."
"What we're trying to do with [the wall] is to give people an opportunity to express themselves … in a way that reminds everyone that we are a community," Fiedler said. "And provide a space for people to express themselves in a way that people who are in the profession of communication would express themselves."
Esther Kwon, a sophomore in the School of Education and College of Arts and Sciences, said the main message of the wall — one of respect — should be preserved amid negative post-election sentiments she had encountered.
"It was difficult to engage in certain conversations because obviously not everyone has the same opinion or value set," Kwon said after reading the notes on the wall. "Regardless of our differences, it's important that we recognize that respect shouldn't change regardless of who is voted for."
COM's Senior Assistant Dean Maureen Mahoney pitched the idea of the wall at an administrative meeting Tuesday, Nov. 15, Fiedler said. Mahoney's son had sent her a picture of a wall in a New York City subway station covered in sticky notes of supportive messages. Fiedler said this inspired COM's own version.
New Yorkers had taken to a tunnel that connects the 14th Street stations at Seventh Avenue and Avenue of the Americas to express their feelings following the victory of Republican presidential nominee Donald Trump. The project was initiated by New York artist Matthew Chavez, several media outlets reported.
Jennifer Underhill, executive assistant to the COM dean, said the intent of the wall was to create "some type of a forum to have students openly express themselves" and inspire one another.
Early last Tuesday afternoon, several staff members posted the first few notes under a placard that states, "Share your voice, build a better COMmunity" with "COM" highlighted in red, Fiedler recalled. The COM administration placed a selection of colorful Post-it notes and pens on a table adjacent to the wall, beneath the sticky notes-covered area of the wall, and opened up the opportunity for students to contribute, Fiedler said.
By late last Tuesday, Fiedler recalled the wall had about 30 to 40 sticky notes on it. As of Monday morning, Fiedler estimated that it had reached about 200 notes.
"The level of thoughtfulness is really impressive," Fiedler said about the comments.  
Messages written on a selection of neon notes ranged from comforting quotes to political statements.  Some sticky notes were in response to others, while most were individual thoughts.
They included, "Love Trumps Hate," "Let this time in history push you forward. Then we can't fall back," "'Happiness can be found, even in the darkest of times, if only you remember to turn on the light.'-Dumbledore," and "You have as many hours in your day as Lin-Manuel Miranda."
Fiedler said the wall has been generally well-received, as the COM administration expected.
Jieqiong Tu, a first-year graduate student in COM who was looking at the notes on the wall, said in light of what many view as a disappointing election outcome, the wall fostered a sense of camaraderie. 
"[Students] feel like they can warm each other with these words," Tu said. "[They can] express themselves and feel like they are loved, and there are people who stand by them."
Ezgi Toper, a sophomore in COM, said when she first saw the wall on Wednesday, her mood instantly lifted.
"It's so nice to be reminded that throughout all this chaos, we're all united in some common love and community," Toper said. Toper wanted to add her personal message and posted a note saying, "You're not alone."
"When people feel like their problems are so unique and singular, they feel more intense and more isolated," Toper said. "The best way to prevent that is to remind people that they're not alone through schoolwork, financial problems, family or romance. We're all in this boat together."