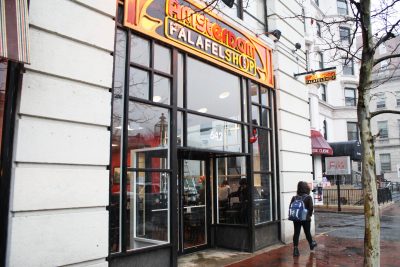 Amsterdam Falafelshop announced last week that it has permanently closed up shop after two years in Kenmore Square.
Matt D'Alessio, former owner of Amsterdam Falafelshop at 642 Beacon St., said the closure is due to a dry business environment amidst nearby real estate redevelopment and the shop's inability to integrate itself into Boston University's dining plans.
"The primary reason [for the closure] is that the entire [Kenmore] area is sort of influxed with real estate redevelopment," D'Alessio said.  "A lot of new, exciting things are coming in."
The redevelopment is set to continue in Kenmore Square on the BU side of the bridge, according to D'Alessio.
"Once things started opening on the other side of the bridge, we saw a precipitous drop in our sales, which was obviously problematic," D'Alessio continued.
D'Alessio speculated perhaps the timing to open Amsterdam Falafelshop in Kenmore Square was off. Regardless, when the dynamics of the foot traffic changed along with the development, sales appeared ill-fated.
D'Alessio, 33, opened the first Boston-area Amsterdam Falafelshop in Davis Square, Somerville in 2013.  Because of the shop's success in proximity to college students at Tufts University, Harvard University and Massachusetts Institute of Technology, he opened another franchise at Kenmore Square in March 2015.
Aside from the two Boston locations that D'Alessio has owned, Amsterdam Falafelshop also operates stores in Washington, D.C. and Dallas, Texas.
D'Alessio recalled his experiences with BU student customers as positive, citing the shop's 4.5 star rating on Yelp.
"It seemed like there were a lot of groups of grad students who would come through before or after class," D'Alessio said. "They would sort of continue the conversations from their classwork in our restaurant."
The restaurant's proximity to students, who were thought to make up a bulk of the shop's customers, did not help business as much as D'Alessio anticipated.
Amsterdam Falafelshop has long partnered with local colleges' meal plans, according to D'Alessio.
He said despite efforts to do the same with BU, the falafel shop was denied any sort of inclusion.
BU spokesperson Colin Riley wrote in an email that aside from the partnership with Domino's, which has been in place for more than 20 years, BU Dining Service does not include any off-campus eateries it doesn't own into students' meal plans.
D'Alessio said he thinks this is unfortunate, especially when the shop is close to Myles Standish Hall and Myles Annex, where a lot of students are required to be on a meal plan.
"We were essentially competing with BU Dining Services," he said.
As a result, D'Alessio said that despite the shop's location near BU's campus, it catered to MIT far more than it did to BU.
"I think in two years, we maybe got like three or four BU orders," he said.
BU students said they have mixed opinions regarding the closure of Amsterdam Falafelshop.
Alexander Tompkins, a freshman in the College of General Studies, said he feels disappointed now that he no longer has a go-to place to get his falafel.
"[Good falafel] is really hard to get around here," Tompkins said. "Now that it's closed, I'm really bummed out I can't get my fix of falafel."
Ariel Lavi, a senior in the Questrom School of Business, said he was not as big of a fan of the shop, and he has only dined at Amsterdam Falafelshop reluctantly with his friends. Lavi stays in South Campus for falafel and Israeli cuisine.
"My friends wanted to go [to Amsterdam Falafelshop], and there was no talking them out of it," Lavi said.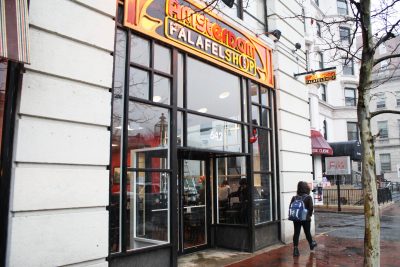 Skylar Karzhevsky, a freshman in the College of Engineering, said that as a vegan, she will miss the ample vegan options Amsterdam Falafel offers at affordable prices, and she would go to the Davis Square location in the future.
"Their toppings and fries are really delicious, and it's a good comfort meal for me," Karzhevsky said.  "I've just been to the one in Kenmore, but I'd be willing to travel [to Davis Square]."