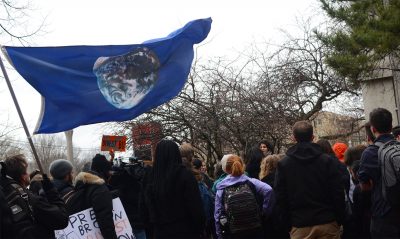 Approximately 50 students walked out of their classes and joined a rally outside of the George Sherman Union Monday afternoon to protest President Trump's stance on climate change and urge university administrators to divest from the fossil fuel industry.
Boston University students joined college students across the country in a national day of action, calling on their campuses to divest from fossil fuels. Many protesters come from universities in the Boston area, including Boston College, Northeastern University and Harvard University.
In September 2016, BU President Robert Brown sent an email to the university community announcing BU would "avoid investing in coal tar sands extractors," but the university would not fully divest in fossil fuels. On Dec. 8, Divest BU responded to President Brown's email by delivering a petition to his office urging him to take further action.
The walkout, called the "Campus Climate Walkout and Divestment Forum," was organized by Divest BU, a coalition of members of the BU community who are demanding the university fully divest their endowment from fossil fuel companies, according to the group's website.
Masha Vernik, a sophomore in the College of Arts and Sciences and a member of the Divest BU coalition, led Monday's rally and encouraged attendees to think of the nationwide movement for divestment.
"As you look around these people from BU making this demand together, don't just picture the 50 to 60 people standing here," Vernik said to the crowd. "Imagine thousands of students all over the country, because our voices aren't alone in saying it. When we say it together, our voices are that much stronger."
After the rally, participants marched through the GSU, chanting "Divest! Divest! Leave fossil fuels to rest!" About 30 students then convened in a forum to discuss why divesting is important in the face of President Trump's administration and shared ideas for expanding the climate change movement on campus.
Rachel Eckles, a member of Divest BU, spoke to attendees about President Trump's stance on climate change and the actions he has already taken to neglect the issue of environmental protection.
"He has been known to refer to it as a 'hoax' and the climate change page was immediately taken off of the White House website after he was inaugurated," Eckles, a senior in CAS, said.
Eckles said President Trump's nominations for important cabinet posts will be detrimental to the fight against climate change.
"[The nominees] … directly affect any progress that is being made on climate change because they are a squad of climate change skeptics, deniers and fossil fuel industry executives," she said.
Vernik said the main goal of the walkout was to recruit students for the launch of Divest BU's new lobbying campaign.
"We will have students show up to President Brown's office every day until he sits down with us in a meeting where we're going to outline those demands more succinctly," Vernik said after the walkout. "We want students to be engaged. We want as many people as we can … to be involved in this movement."
At the forum, Armina Petrescu-Tudor, a senior in CAS, discussed the importance of students pressing their universities to take action against climate change in the wake of the new Trump administration's refusal to address it.
"We know that there certainly will not be any new legislation and new progress about climate change," Petrescu-Tudor said. "Because our government won't be doing anything in the next four years, it's really important that we do, and it's really important that we call on organizations like a university that has influence and money and can do something about it."
Several students who participated in the walkout said they enjoyed voicing their opinions.
Erica Pierce, a senior in CAS, said she came to the walkout because she felt inspired to enact change after attending the Boston Women's March for America on Saturday.
"After that really symbolic hype and rush, I felt like I needed to continue that and bring that energy into something else," Pierce said. "I wanted to be a part of any kind of movement that is going to do something to make their voices heard and address issues as students."
Ivan-Alexios Badanjak, a sophomore in CAS, said he supports divestment because he wants to do more to minimize his impact on the environment.
"Divestment appealed to me because it's a large scale movement," Badanjak said. "If this is successful nationally, it does have the ability to influence markets and set a precedent to other financial institutions that the fossil fuel industry is a horrible investment."
Jane Dimnwaobi, a junior in CAS, said the efforts of Divest BU to voice their concerns could inspire other students to do the same thing.
"I think it's really important to see students being bold on campus," Dimnwaobi said. "I think we tend to forget how to demand things from our administration, and seeing Divest BU do that, I want to support it because I think it's a model for other student groups to follow."