Nearly 100 Boston University community members and activists from other universities joined Divest BU Thursday afternoon for the organization's second rally of the semester.
Divest BU, the coalition with the main goal of urging the university to divest endowment funds from fossil fuel, organized the rally to inspire other community members to participate in the cause, said Masha Vernik, a member of Divest BU and the primary organizer of the rally.
"We really want to activate and inspire students to act [on behalf of the climate]," the College of Arts and Sciences sophomore said.
The group's other goal is to urge President Robert Brown and the Board of Trustees revisit their decision on fossil fuels.
In a letter sent to the BU community in September, Brown announced that the university will do its best to avoid investing in coal and tar sands extractors, The Daily Free Press reported on Sept. 20.
Nicolette Matsangos, also a member of Divest BU, said although this wasn't an ideal decision, it represented some progress.
"It took a long time to get divestment into the Board of Trustees' agenda," the CAS junior said prior to the rally. "This is the biggest milestone in recent memory — to get them to address divestment — even though it wasn't quite what we wanted."
Rachel Schlueter, a junior in CAS, said BU should take more responsibility on the issue of divestment, and the student body will make sure of it.
"We're not going to wait until Bay State Road is flooded," Schlueter said. "By calling on [the Board of Trustees] to divest, we all have taken a part in creating a just and stable future for all."
Participants started the march at the George Sherman Union, where they gathered to make signs and prepare for the march.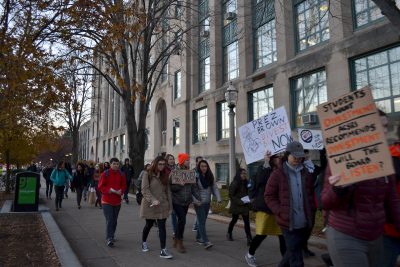 Chanting "Board of Trustees, hear our cries, invest in our future, not our demise," protesters then marched to Marsh Plaza, where members of Divest BU and other organizations spoke to the crowd.
Speakers included Divest BU members Rachel Eckles and Doruk Uzel, both seniors in CAS.
Uzel said Divest BU's efforts will play a part in a much bigger picture.
"President-elect [Donald] Trump … has appointed a climate change denier [to head the Environmental Protection Agency]," Uzel said. "If you're not scared, you should be."
The crowd then marched to the John and Kathryn Silber Administrative Center on Silber Way, drawing in more participants along the way.
Members of Divest BU walked inside the center to deliver their petition, which urges the university to reconsider its investment in fossil fuel. They were met by BU Police Department's Acting Chief Scott Paré and Brown's Chief of Staff Douglas Sears.
Sears walked out to greet the crowd and promised the petition would be delivered to Brown.
Toward the end of the rally, Divest BU members asked the crowd if anyone else wanted to speak. Jessica Silva, a CAS sophomore, said Divest BU's cause is important to her.
"My family is from an island that is going to probably be underwater in the next 50 years," Silva said. "For this to be happening at a university that I'd like to call home, for the Board of Trustees to be investing in something that's actually destroying my home, is kind of F-ed up, to be quite honest."
Nathan Phillips, a professor in the Department of Earth and Environment, had just finished teaching a class before attending the rally. He reaffirmed his long-standing support of Divest BU as he clapped for the speakers outside of the administrative center.
"I have supported them from day one," he said.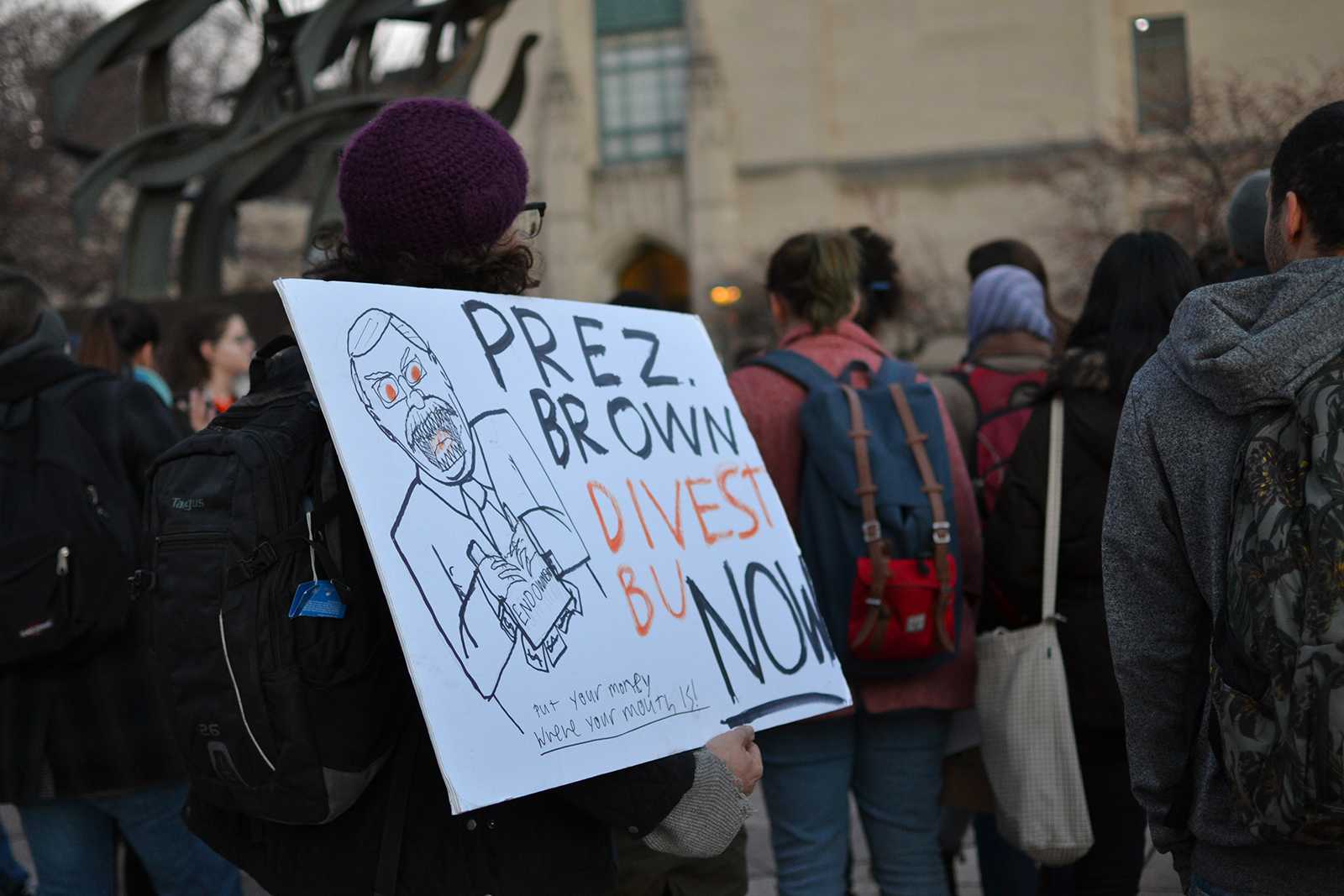 Several attendees explained why they decided to participate the rally. Sandy Henshaw, a sophomore in CAS, said he was motivated to attend because of President-elect Trump recently named Scott Pruitt as the director of the EPA.
"There's a lot of news about the EPA and climate policy in the U.S., so it seemed like a good time to get involved," he said before the rally. "It's important to raise awareness and send a message that the BU student body cares about stuff like this."
Riale Gilligan, a sophomore at Northeastern University, came to the rally with nine other members from DivestNU to support Divest BU's movement.
"Divest BU was there for us when we needed them," Gilligan said before the march. "We're happy to be here tonight. The only way we can influence our administrations is with numbers, and showing that we are dedicated, and we will not stop."
Several BU faculty members also participated in the rally. Douglas Zook, director of the Global Ecology Education Certificate, said he was eager to support the students in their efforts.
"I think divesting from fossil fuels is such a top priority," Zook said. "It's great to see the students doing this. After all, this is the school Martin Luther King attended. Many people here praise him, but don't necessarily act on that."