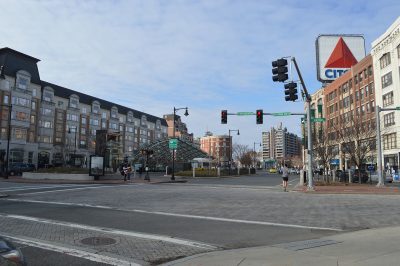 The Boston Transportation Department is accepting applications for the 2017 Neighborhood Slow Streets program, which works to use traffic calming measures to improve roadway safety in residential areas, according to a Tuesday press release from the Transportation Department.
Tracey Ganiatsos, a spokesperson for the Transportation Department, wrote in an email that the program uses physical and visual cues, including speed humps and posted signs, depending on the needs of each participating neighborhood to slow down traffic.
The development of the Neighborhood Slow Street program began in 2016 with two pilot areas.
Throughout the process, the city has worked with Talbot-Norfolk Triangle in Dorchester and Stonybrook in Jamaica Plain.
Boston residents who apply for the program can expect to see improvements in their neighborhood by next year, Ganiatsos wrote.
"The community process and design work on new programs selected this year will begin in 2017 and we expect that physical improvements on these programs will be implemented in 2018," she wrote.
Ganiatsos wrote residents and neighborhood associations who apply must meet certain requirements to participate in the program.
"Selection criteria includes, but is not limited to, crash history, the number of youth and other adults living in the neighborhood, and proximity to schools, parks and community centers," she wrote.
The Neighborhood Slow Streets program is a component of the City of Boston's Vision Zero initiative, according to Ganiatsos, which aims to eliminate traffic fatalities in Boston by 2030.
Within the past couple of years, a variety of fatalities have occurred on Boston's residential and commercial streets, Ganiatsos wrote.
"In 2015, a total of 23 people walking, cycling or traveling in motor vehicles were killed in crashes on Boston's roadways," Ganiatsos wrote. "In 2016 although no bicycle related fatalities were recorded on the City's local streets, 7 motorists and at least 14 pedestrians died as a result of injuries from crashes citywide, on both residential and commercial streets."
Ganiatsos said Boston's roads will be safer, thanks to the Neighborhood Slow Streets program, which will make the city more pedestrian-friendly.
"The program is designed to reduce the number and severity of traffic crashes on residential streets using traffic calming measures that provide visual and physical cues to slow drivers to 20 MPH, making each street feel more inviting for people walking and bicycling," she wrote.
Jeff Larason, director of highway safety at the Executive Office of Public Safety and Security, said an effective way of reducing speed issues on the road is attempting to change driver behavior through education.
"One of the big pieces of what Vision Zero is doing, and there's validity to it, is building into the infrastructure ways to calm traffic and to slow people down so that if there was a crash, at least the vehicles involved in that incident are less likely to cause as much damage," he said.
Several Boston residents said the program will be effective, but were not confident all drivers would respond appropriately.
Perla Ledesma, 21, of Dorchester, said measures would have to be taken to ensure that drivers obey the visual cues.
"There would definitely have to be some kind of consequence for drivers who ignore the new signs because that is common," she said.
Emily Paterson, 22, of Brighton, said the Slow Streets projects will likely be more effective during daylight hours.
"I think overall in residential areas it would definitely help out," she said. "Certain times of the night people probably wouldn't listen to it … But during the day driving is more important, and I think during the day it would make a big difference."
Alexa Tom, 23, of the South End, said the program should be enforced throughout the whole city of Boston.
"Even in Ubers late at night, drivers are reckless in cutting people off and speeding to get to their next destination," she said. "If Boston became stricter in getting drivers to obey the law, that would benefit everyone."