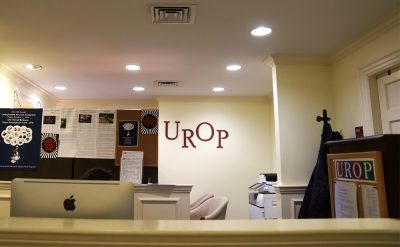 New research being done by the Defense Advanced Research Projects Agency may have found a possible cure for types of cancers by using the Big Mechanism, a machine that reads scientific journals and synthesizes information.
DARPA spokesperson Jared Adams said the Big Mechanism's purpose is to read research and extract pieces of information, which it assembles into more complete models and explanations.
Adams said the sample research they are doing involves Ras cancers, which is more than 30 percent of human cancers.
"Since there are hundreds of thousands of journal articles on the subject of Ras cancers, the thought is that there may very well be a … treatment regimen that remains unconnected to other findings in the field, buried, quite literally, in mountains of paper," Adams said. "Still, it is a long time away from fully understanding all texts."
Sean Anderson, a Boston University engineering professor, said data automation is helpful for the kind of research he does.
"When you're dealing with large volumes of data," Anderson said. "Large for me would mean thousands of images of tens of thousands of images sometimes, and it would be impossible to do by hand so you need some automation to help you do that."
Anderson said his research focuses on the movement of parts inside of a cell.
"These things are too small to see with optical microscopy, but you can label them with little light bulbs. We can image these things and see them as they move around," Anderson said. "This is where we get the thousands of images that we then have to analyze."
Anderson believes a sorter like the Big Mechanism, that interprets text, pictures and graphs, is both plausible and would be very useful.
"It's very difficult even in a narrow section of the field to keep on top of [the papers that come out] and so, when you're trying to think of new ideas and see what other people have done, it would be very helpful to have some automated guidance," Anderson said.
Many BU students said they aren't afraid of losing jobs and think this type of progress is great.
Hanna Kim, a freshman in the Sargent College of Health and Rehabilitation Sciences, said there will always be jobs available.
"As long as [the machine] cures it shouldn't be a problem," Kim said. "There also needs to be a connection, and trust between a doctor and a patient. Healthcare wise, the humans are still doing the job."
Connor Follis, a junior in the College of Arts and Sciences, said he's in favor of machines like the Big Mechanism and says job security is a worry for much farther in the future.
"We may not have the resources to put a human in a position to make these strides but machines are designed to do that. If we don't take full advantage of that then that's just wasting potential," Follis said.
Shaelah Foresman, a sophomore in the College of Communication, said innovation like this in inevitable.
"I feel like that's the direction we're heading, honestly, in society. It's impossible to ignore technological advances," Foresman said.
Foresman said the jobs that might disappear will make way for new jobs.
"New jobs will be able to evolve because there will be people that need to go into the manufacturing of these machines," Foresman said.