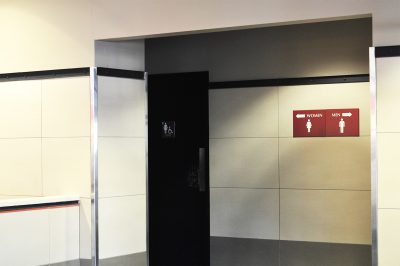 Boston University is in the early stages of adding gender-neutral restrooms in the George Sherman Union and subsequently the rest of campus, Dean of Students Kenneth Elmore said.
The plan is to change the signs at the GSU to remind students that they can use whichever bathrooms they prefer based on their gender identity. On the second floor of the GSU, the university will add two all-gender bathrooms, Elmore said.
If the BU community responds positively to gender-neutral bathrooms in the GSU, the university administration will "look at this whole issue around campus with the number of buildings we got and how we might implement something similar to what we'll probably do here at the George Sherman Union," he added.
"In the GSU, we are going to try to find a way to make [gender-neutral bathrooms] work, immediately," Elmore said. "Then, we [will] look long-term about what that might mean in terms of creation of new spaces or not, and how best we could go about that in the long-term."
Elmore said this decision did not come from Trump's Feb. 22 announcement, which rescinded the federal protection of transgender students in public schools, leaving it up to the state to decide whether individuals can choose to use bathrooms and other facilities that correspond with the gender they identify with. Massachusetts law currently protects individuals in these situations.
The timing is "just coincidence," as the plans have been in talk for a while, Elmore said. While the plans are not official yet, he said BU will host a couple of university-wide discussions about this topic and the proposal for the bathroom signage in the GSU.
As of now, Elmore said the idea behind this plan is to ensure that students who do not identify as cisgender feel safe in the university.
Currently, Massachusetts law protects individuals' rights to use restrooms or locker rooms consistent with their gender identities, BU law professor Robert Volk explained.
Volk said the law does not require anything from the facilities themselves, just what individuals are allowed to do with those facilities.
"The law does not require that places have gender-neutral bathrooms, but many places choose to do so," Volk said. "The law does not prohibit places from having facilities segregated to one gender, although again, an individual can use public accommodations that is consistent with their own gender identity."
Elmore said he believes some faculty and staff across campus have established gender-neutral bathrooms, and the university wishes to do a survey to "figure it all out and think about how [they] can be a little bit more coordinated and deliberate around campus."
Meanwhile, students across campus have expressed desires for the university to establish gender-neutral bathrooms. Two students have recently created a petition to change the bathrooms in the Community Service Center at the GSU to be non-gendered bathrooms. The petition has garnered 368 signatures as of last week, The Daily Free Press reported on Feb. 23.
Several BU students said they think BU's gender-neutral restroom initiative sets a good example for universities across the nation.
Julia Keith, a senior in the College of Communication, said if BU were to follow through with making this decision, the university can hopefully inspire other institutions to follow suit.
"I already think we're a liberal school, so I think this would be really good to make that decision and hopefully influence other colleges' decisions," Keith said.
She said BU already has a progressive atmosphere, even in classes, so implementing gender-neutral restrooms should not be of concern to students and the administration.
"Based on the classes I've taken … I think it would be really good," Keith said. "People would be ultimately happy with the decision, in my opinion."
Tu Timmy Hoang, a junior in the College of Engineering, said BU should make this decision because gender ultimately should not matter when one is trying to use a restroom.
"[BU could show] that gender doesn't matter and that everyone is equal," Hoang said.
COM sophomore Hayley Levesque said BU should be an example for the rest of the country, where many grapple with similar circumstances.
"With the environment that we have at this school, it would definitely be a statement compared to what [else is] going on in the U.S.," Levesque said.
Sophia Eppolito contributed to the reporting of this article