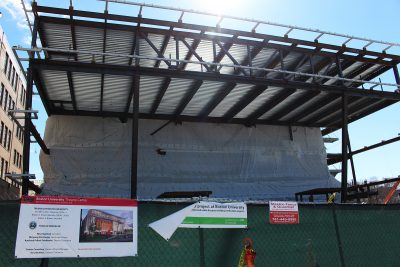 Boston University announced Monday that BU trustee Stephen Zide has named the new College of Fine Arts theater with a gift of $10 million.
The freshly minted Joan and Edgar Booth Theatre, which is named after Zide's in-laws, has been under construction since last year in what used to be a parking lot next to 808 Commonwealth Ave.
While Zide himself has a background in equity funding, it's his wife, Janet Zide, and his in-laws that brought the joy of theater in his life, BU spokesperson Colin Riley said. Thus, naming this facility after Janet's parents, Joan and Edgar Booth, is not only a tribute to them but also a reminder of the CFA spirit: of finding joy in performance arts, Riley said.
The progress toward the new theater started a year ago with the sale of the BU Theatre at 264 Huntington Ave. for $25 million, The Daily Free Press reported. The construction of the Joan and Edgar Booth Theatre is a part of the $50 million commitment from the university to improve CFA, as President Robert Brown announced in January, 2016.
Riley said the theatre will be a "new gem on campus" that will bring production and theater performance together.
"That's very important, and the fact that one of the trustees was willing to make an incredible gift to name the CFA theatre certainly reflects well on not only the seriousness of the trustees in supporting the arts and the College of Fine Arts, but also in supporting Boston University's education for future actors and people who worked behind the stage in putting these programs together," Riley said.
The new theater complex, designed by the Boston-based Elkus Manfredi Architects, will be 75,000 square feet. Along with the Joan and Edgar Booth Theatre, it will also include production and costume spaces, design labs, classrooms and a landscaped plaza.
Assistant to Dean of Students Katherine Cornetta said she is always happy to see new opportunities for students to learn.
"We're always happy when a school or college like the College of Fine Arts has new things and has new spaces planned," Cornetta said. "[The theater] will be so helpful to not just CFA students, but all students, as they participate in a variety of arts related activities."
Some students said they are excited for using the new facility and are enthusiastically waiting, but others had different opinions.
Trenton Mulick, a freshman studying theater production at CFA, said he thinks the gift is "absolutely amazing."
"I am incredibly grateful for [Zide's] belief in the arts at BU," Mulick said. "It'll definitely help the School of Theatre immensely and I am greatly looking forward to the new building"
Christina Smith, a junior in CFA, said she does not like the black box style of the theater and wishes it were more inclusive to music students.
"I don't feel good about it because they're building a black box, which will not be adequate for opera, so I'm not happy with what they're doing with the donation because it will only benefit the School of Theatre and not the School of Music," Smith said. "We have to travel around the city to find an opera."
Joseph DellaMorte, a junior in College of Engineering, said he is excited about the space, but also hopes further facilities will be built in the future.
"I'm really glad that BU is putting such efforts to create a space for the performing arts but as a long time musician, I hope that they work on similar spaces for music as well."