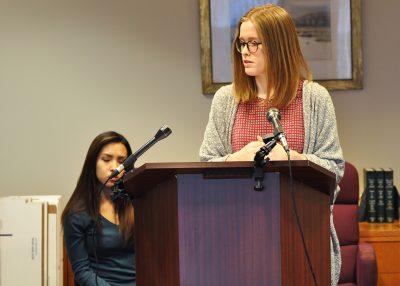 A federal judge denied Boston University and a College of Fine Arts professor's request to dismiss five of 10 claims related to a sexual harassment case that CFA students brought against them, according to the judge's order filed on Monday.
CFA student Erin Shyr and former CFA student Maria Currie filed a lawsuit in Suffolk Superior Court against Boston University and CFA professor Eric Ruske in April. The lawsuit claimed Ruske sexually harassed the two students and that BU was negligent in handling the case.
In September, the university and Ruske sought to drop five of the 10 allegations listed against them, including one Negligent Hiring, Retention, and Supervision claim from Currie, two Intentional Infliction of Emotional Distress claims — one from each plaintiff — and one Assault and Battery claim from Shyr.
The court denied all motion to dismiss.
"Despite his position of authority, Ruske engaged in unseemingly conduct that he directed toward the two young women," United States District Judge Denise Casper wrote in the court order.
BU spokesperson Colin Riley wrote in an email that the ruling only impacts the defendants' motion, that "the plaintiff's claims meet the minimum legal standards necessary for the case to proceed." It's not a ruling on the merits of the two students' claims, he added.
During a press conference on Wednesday, Shyr and Currie's lawyer Sara Burns criticised BU's and Ruske's response to the allegations.
"From the start of this lawsuit, Boston University and Eric Ruske have been tone deaf," Burns said. "Boston University is providing Ruske with legal representation and, as far as I'm aware, has continued to employ him without further investigation or any reprimand."
Riley confirmed Ruske remains a professor in CFA for the 2017 spring semester.
Ruske did not immediately respond to requests for comment.
One of the claims the defendants sought to dismiss was that Ruske inflicted intentional harm on Currie and Shyr, Burns said.
"Attorneys from BU and Eric Ruske went so far as to argue that Ruske simply intended to show affection to these young women, to express a desire to engage into a romantic relationship, not to harm them," Burns said during the conference.
Shyr, now a senior in CFA, said she found the court's decision relieving.
"Knowing the court's decision that all 10 counts will go forward is reassuring because it means that someone is taking [Currie] and I seriously," Shyr said during the conference.
Currie and Shyr both acknowledged the social and academic hurdles they have faced since filing the lawsuit, including estrangement from fellow music students and professional musicians.
"I still find it very difficult to walk into the School of Music," Shyr said. "There are many members in the music community who find this lawsuit cumbersome. They think that, at some level, it is frivolous because we are not keeping our mouths shut … they think we should ignore Ruske's personality simply because he is a good musician."
Shyr said this negativity fed into her decision to change career paths.
"I pursued music very fiercely [during] my first two years at BU, but the impact of what Ruske and the university has done has really altered my perception of a career in the industry," she said during the conference. "As a result, I have decided to pursue graduate studies in history … I do feel a bit wistful knowing a door has shut for me."
Currie, who had transferred to the New England Conservatory and graduated, voiced concern that future employers may be deterred from hiring her based on the lawsuit. Although it is difficult to gauge the effect the lawsuit will have on her music career, she said this experience has made her second-guess her passion for music, something she "lives and breathes."
"It has been really heartbreaking to have the music world that I love so much be the place where I experience this huge hurdle of having someone behave this egregiously, and then have a whole bunch of people not care," Currie said during the conference. "It really feels challenging sometimes to continue pursuing a musical career knowing that there is this base-level hostility to challenging authority."
Beyond just detractors, as Shyr is still enrolled in CFA, she said she ran into Ruske several times after filing the lawsuit. When she encounters Ruske, he no longer acknowledges her presence, Shyr said.
Burns said the impact of the court's decision stretches beyond legal justice.
"Today's decision puts the plaintiffs one step closer to holding Boston University and Eric Ruske responsible for this harassment," Burns said. "For my clients, however, it's not just about Ruske's harassment of them. This is also about ensuring that this does not continue to happen at our colleges and universities both by bringing this conduct to light as well as showing other victims of harassment that they are not alone."
Haley Fritz and Till Kaeslin contributed to the reporting of this article.