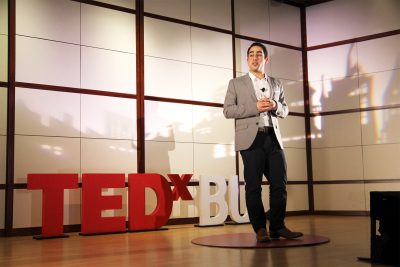 When Khizer Baig helped organize the first TEDxBU event in 2015, he wanted to create a legacy that would inspire others.
Two years later, the senior in the Questrom School of Business was the head organizer who brought TED Talks back to Boston University on Saturday. This year, it had the theme of "Landscape: Giving Context to our Potential" with more than 100 people in attendance.
"My [goal] was always the legacy aspect, leaving something behind," Baig said during the conference. "I was a sophomore when [the first TEDxBU occurred, and I'm a senior now, so I really felt responsible."
Baig said he felt a certain "Dharma" in bringing back the event, an Indian term that means responsibility or life purpose. The initial event was held in the small space of BU Central, but this year's expansions in every area — from speakers to attendees — meant that a bigger space was needed as well, which is why it's held in the Questrom Auditorium.
"This time, it's more of a conference," Baig said. "It's similar, but everything's bigger."
Speakers at the conference included several people from the BU community: two current students, an alumnus and a professor.
Santiago Marquez, a sophomore in the College of Arts and Sciences, gave a presentation called "Everybody needs a hug" about the importance of affection in interacting with other people and building relationships.
"This affection, this physical touch between friends — between men — is so rare that people attribute it to alcohol," Marquez said. "Sadly, this affection is often stigmatized and sexualized."
But Marquez said affection goes far beyond sexuality and is also important in platonic situations — even with strangers.
"In my culture, when you meet a stranger, you kiss them on the cheek," Marquez, an international student from Mexico, said.
He referenced studies that found affection to be important, because it is essential for healthy development, reduces stress, increases cooperation and performance and shows people you care about them.
"Everyone, under the right circumstances can become more affectionate," Marquez said. "I want to leave you today with an invitation to be more affectionate, to help me spread this affection toward social areas. Be affectionate, give out hugs."
Other speakers had different ideas about unifying communities, like Tufts University freshman Truett Killian, who aimed to challenge the audience to change how they interact with people they disagree with in a time of heightened political tension.
"If all you're doing is coming up with reasons to affirm your own opinions, you're not really getting anything done," Killian said of conversations between people with differing views. "You're not really learning anything."
Killian said too often, we decide right off the bat someone is a bad person, and then "build up a wall of apathy that takes away your ability to understand."
"If you want to have a conversation with someone, you have to be willing to learn, and you have to be willing to teach," he said.
Killian ended his talk by challenging the audience to have a conversation with someone they disagreed with and try to mutually hear one another.
Other speakers included Sanjiv Chopra, Paul Gonzalez, Swathi Kiran, Anna Martynova, Frank Pobutkiewicz and Meta Wagner.
Many students who attended the conference were excited because they had watched TED Talks from home and wanted to experience them firsthand, such as Boston College sophomore Kevin Mahon.
"I've watched TED Talks for a while now and I find them really stimulating, even if it's not something I'm particularly interested in," Mahon said. "I just wanted to see what a local event would have to offer."
Sydney Berman, a sophomore in Questrom, said she often attends conferences with her friends in order to get new ideas.
"I've seen TED Talks before and I just think it's really inspirational," Berman said. "I like just expanding my mind to different ideas. It's interesting."
Michelle Verkhoglaz, a sophomore in Questrom, said seeing TED Talks in person was a different experience than watching pre-recorded videos of the talks online.
"You get another level of attention when you watch these events in person because I watch [TED Talks] all the time, but sometimes, you're on your phone or you're not quite taking notes and so it's cool to actually see it in the first row," Verkhoglaz said.