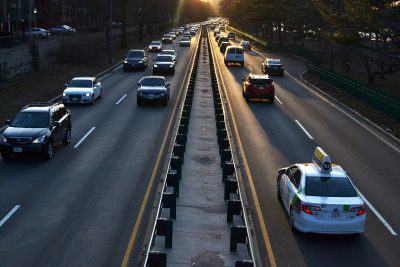 For 21-year-old twins Michael and Matthew Vega-Sanz, both juniors at Babson College, their breakthrough idea started with a pizza.
One day, the boys, sick of the Domino's Pizza that dominates many college diets, set out on a quest to find the nearest Papa John's. What they found instead was an Uber ride for $30, which they described as a "ridiculous amount" to spend on an $8 pizza.
They ordered Domino's again instead, and when they went outside to meet the delivery guy, they stumbled upon rows of unused cars sitting in the parking lot. That's when they thought, "Why didn't we just use one of those to drive ourselves?"
This is where Lula, the first peer-to-peer car-sharing service to hit the Massachusetts college scene, was born. Lula is "the Airbnb for college student's cars," Matthew said. Users can take advantage of unused cars for a cheaper transportation option. The app is set to launch on Babson College's campus this summer, and the brothers said they are hoping to expand throughout Massachusetts, the Northeast and, eventually, the nation.
"Uber and Lyft are great if you're going out in the city and drinking or partying, but for simple daily tasks, Lula is way more convenient and way cheaper," he said, describing how the platform is more individual-based, instead of relying on a third-party driver.
He also added that while Uber and Lyft prices can shift or "surge" during busier hours, Lula users only pay for the time they're using the car, which Matthew said will probably end up being around $8 per hour.
The twins explained that Lula still comes out on top when compared to its biggest competitor, Zipcar.
Using Lula is simpler and easier than using Zipcar, Matthew said, because the mandatory background check that Zipcar runs on all users can take up to seven days to process, while Lula can process requests in as little as an hour. Additionally, Lula doesn't have the monthly recurring Zipcar membership fee, which the founders said they hope attracts money-conscious students.
"Babson only has four Zipcars that are always in use," Matthew said. "One of the biggest issues that Zipcar faces is lack of available supply. From a business model perspective, we have no set inventory — it depends on the college campus."
The brothers said they hope the no-frills service will draw student users to put their cars up for use. Students looking to post their car for use on the Lula app can sign up for free and complete a background check. When a user requests to take their car out, the lending student can view that user's profile, which will work similar to Uber's user-rating system. They can then deny or accept their request from within the app, which sends a text message notification when a user asks to borrow a car.
"It's a really easy way to make money without doing anything," Matthew said. "[Users] can make up to $250 a month just for lending their car out."
It seems that the boys aren't the only ones who are optimistic about Lula's future. This past summer, they raised $200,000 from investors to create their app prototype.
"We thought this would be a hobby, but now it's basically our lives," said Michael, who explained that they both left summer internships in New York to focus on Lula.
"Lula started with a legitimate need and a problem that college students really have," Michael said. "It stemmed from something personal, so this is our way of trying to improve college life and help college students."
Boston University students commented on both sides of Lula's entrance into the ride-sharing market.
William Bauman, a freshman in the College of Communication, expressed interest in the idea of having a car on demand.
"I think this could be really useful for college students all over Boston," he said. "If it's easier than Uber and cheaper than Zipcar, I would probably consider using it … I think it's cool, because most students can't afford to keep a car on campus, so this kind of lets you have that experience."
But Samantha Holichork, a junior in the Sargent College of Health and Rehabilitation Sciences, said that users should be wary.
"I think it's a cool idea and could picture a lot of people using it," she said, "but if you got into an accident or something happened to the car, it seems like it would be more of a hassle to deal with."
CORRECTION: In an earlier version of this article, we stated that Babson College has 84 Zipcars always in use, instead of four. We regret making the mistake.