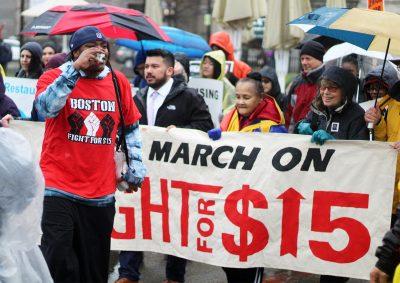 Approximately 100 people stood in the rain to voice their support for an increased minimum wage at Boston Common Tuesday afternoon.
The protest was one of around two dozen called "Fight Racism, Raise Pay" and landed on the 49th anniversary of Martin Luther King Jr.'s assassination, according to a press release from Fight for $15, the nonprofit run by workers throughout the country that organized the rally.
The protesters marched for higher wages and racial justice, said Andrew Farnitano, a spokesperson for Raise Up Massachusetts, a nonprofit that partnered with Fight for $15 to organize the event.
"It's about continuing the legacy of Dr. King, who fought for economic and racial justice throughout his life and especially commemorating his death and the campaign at the end of his life," Farnitano said. "He was engaged in a campaign … that was about building a multiracial coalition for union rights and economic justice for all Americans."
Mariama White-Hammond, a reverend at Bethel African Methodist Episcopal Church in Jamaica Plain, told The Daily Free Press before she addressed the crowd that the disparity in racial equality and economic equality go hand in hand.
"This is an issue about economic injustice but it's also deeply tied to race," White-Hammond said. "When you look at low-income workers in the city, they are overwhelmingly often black, Latino, Asian immigrants, folks from the Middle East, who are here working hard and still not making enough to get ahead."
White-Hammond spoke during the event and said it is unfair that full-time workers cannot afford basic living necessities and people need to take action to remedy this.
"We are calling for a revolution in values, in our country, that says that we are going to act like people have human dignity and that we are going to pay them a wage that reflects that human dignity," White-Hammond said.
Brianna Bryant, a teenage worker who spoke on the behalf of the Dorchester Bay Economic Development Corporation Youth Force program, which trains local teens to be community leaders and organizers, said teenagers must not be left out of the minimum wage conversation.
"Making $15 an hour … will also allow me to invest in myself and to build a path for my success," Bryant said. "If the state of Massachusetts is not willing to invest in their youth … there will be no future without us, so stop devaluing us."
After the rally portion of the event, the protesters marched to the Massachusetts State House chanting, "We work, we sweat, put 15 on our check!" and "Whose House? My House!"
The chants continued until a small group of the demonstrators entered the State House and reported back to those waiting outside that officials inside the State House had heard their concerns.
Several protesters said an increase in minimum wage would benefit the local economy and workforce.
Linda Jenkins, 68, of Cambridge, said marches like this are important because immigrants contribute a lot economically to society and are not rewarded for their contributions.
"All of these [people] come together as being sort of oppressed under capitalism, under this form of capitalism that we have right now," Jenkins said. "It's really past the time of patriarchal imperialist capitalist 'all about me' kind of thing."
Jian Hua Tang, 67, of the South End, said as an immigrant, he feels it is vital that he marches against society's systematic injustices.
"There are so many issues nowadays, from the deeply rooted racism, and the housing crisis right now, our benefits being cut, and workers' rights issues," Tang said. "We also don't like the Trump administration so it's even more important for us now to come out and to fight for these rights."
Ashley Barquin, a junior in Boston University's College of Communication, said marching for these values benefits those who are oppressed.
"I think that fighting for minimum wage of $15 is very important for everyone, but especially for people of color, for women, for teenagers," Barquin said. "Honestly, I'm just happy with the outcome that we had today."