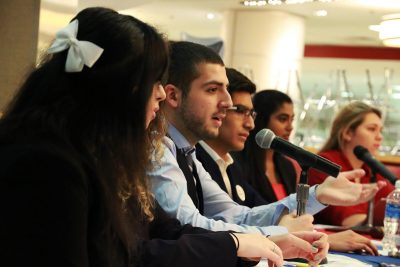 The two slates running in the Boston University Student Government Executive Board election — B-trU and Your BU — debated Tuesday night at Late Nite Café in Warren Towers where they voiced their policies and addressed students' concerns about SG.
Student Election Commission co-chairs Ramya Ravindrababu and Christina Lucas moderated the debate, which is an annual tradition for each election cycle, according to Lucas.
Lucas said the purpose of the debate was to "allow slates to really delve into their policies" after Monday's press conference, which gave them a space to state their general views.
"This was an opportunity to kind of go more into depth of following through with these policies and to have good debate," she said before the debate.
Additionally, audience members were given $10 to spend at Late Nite as an incentive to watch the debate.
"We need to find ways to engage with the BU community, and if it's starting by giving out Late Night vouchers, then I definitely think it's worth it," Lucas, a senior in the College of Arts and Sciences, said.
The debate consisted of three segments: community building and student group relations, student group accessibility, and initiatives each slate would bring to the table if elected. Each segment lasted 15 minutes and gave slates three minutes to respond to each question the moderators posed.
Concerning the role of student government and community building on campus, each slate had their own ideas to increase representation on campus.
Members from B-trU said while senators from different colleges represent the academic needs of students, senate should include additional representation for black, Latinx and international students that have a presence at BU.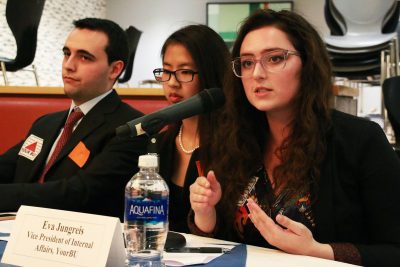 Elie Dwek , B-trU's executive vice presidential candidate, said his slate would create standing committees for these different cultural groups who would later elect someone to represent them in Senate.
"That's how you get [SG] to represent all of its students, not just the colleges, not just Hillel, not just Greek life," Dwek, a sophomore in the College of General Studies, said during the debate.
Conversely, Your BU candidates said they wanted to create an international student committee, but did not support allocating a seat for them in Senate.
Piergiacomo Cacciamani, Your BU's executive vice presidential candidate, said by adding seats for minority groups, the proportionality of representation would not be evenly distributed.
"Morally, it is not right to allocate seats on a multicultural background or on a race," Cacciamani, a sophomore in the College of Engineering, said during the debate.
After the 45-minute debate, the moderators opened it up to questions from the audience. Students inquired about specific initiatives each slate plans to launch.
Some initiatives B-trU proposed include increasing dining hours, attempting to strengthen BU's Wi-Fi connection and increasing the mental health presence on campus, while Your BU plans to launch peer-to-peer mentorship programs and continue with the current initiative to have a student member on the BU Board of Trustees.
SaraAnn Kurkul, Your BU's presidential candidate, said she thought the debate went really well in terms of both slates addressing issues they're concerned about.
"We have a lot of similar goals, just different ways of getting there," Kurkul, a junior in the College of Communication, said after the debate. "I think both sides really presented their policies and the issues they prioritize and really want to emphasize in their platform."
B-trU VP of Finance candidate Michelle Megala said despite not having enough time to provide a rebuttal response, the debate was still effective.
"I think we've put out most of our ideas and if anything, online we know everyone still has access to what we're planning on doing," Megala, a sophomore in CAS, said after the debate.
Several students who attended the debate said they thought it was interesting and an engaging way to reach out to potential voters.
Naomi Carolan, a junior in CAS, said the two slates were a lot different than she expected.
"I think there was a very clear divide," Carolan said. "One was more research-based and focused on restructuring Senate and committee, and the other on how to incorporate different ideas on BU life."
Morgan Delaney, a freshman in COM, said the debate brought SG's lack of freshman accessibility to her attention.
"I see a really bright future, but [it's] also still concerning in that there are always thing to improve," Delaney said.
This article has been updated.