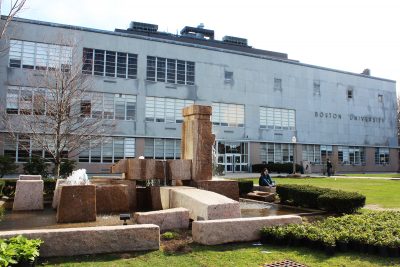 Professors at the College of Communication found fliers that were slipped under their doors on Monday morning, accusing the college's Dean Thomas Fiedler of several misconducts.
The fliers read "Fire Dean Thomas Fiedler for harassment, discrimination, abuse of power, lying and breach of ethics and playing games with BU students educations" in bold, all-caps type.
The fliers did not offer any further information to support the claims or give an indication as to who was distributing them.
Boston University Police Department Acting Chief Scott Paré said BUPD knows who distributed the fliers, but declined to release any further information about the student.
"Obviously, it's disturbing when this happens," Paré said. "We want to find out what is going on."
Whether or not the student faces any sort of punishment is up to the university, Paré said.
Fiedler, who has served as dean of the college since 2008, told The Daily Free Press that a male student distributed the fliers but declined to identify him. Fiedler says he has spoken with the student personally since the incident.
"The distributer of the flyer is apparently not one of my biggest fans," Fiedler said. "It appears to be the author's viewpoint and what he would like to see occur here."
Fiedler said that he would not file a complaint against the student.
"I think someone [who] has an opinion has the absolute right to voice that opinion," he said. "As long as university property isn't being defaced, and as long as there is not disruption that affects the right of other students to participate in things."
Fiedler said he believes the student has a right to his own opinion.
"I don't like to think that I am such an evil person," Fiedler said. "I don't think it's violation of any law to have an opinion. Does that cross over into libel or slander? Again, I think that at this point, I certainly don't feel that it needs that mark. That's his view."
Photography professor Greg Marinovich was one of the many professors in COM who received one of these flyers.
Marinovich wrote in an email that it was the first time he had experienced something like this.
"Seems like a straight up hack job, really — all over the place, nonspecific, unsigned etc," he said.