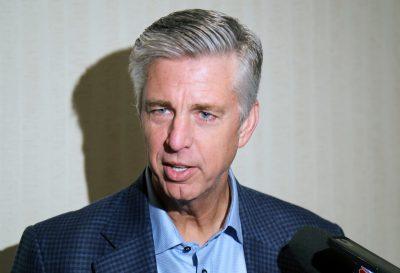 As he enters his second year as the President of Baseball Operations for the Boston Red Sox, Dave Dombrowski has already left his mark on the historic baseball franchise.
From the moment Dombrowski arrived on Yawkey Way, it was clear that the Red Sox were in "win now" mode. The first major transaction the now 60-year-old made was trading for star reliever Craig Kimbrel. That was followed by the signing of Cy Young winner David Price, who had played for the Detroit Tigers when Dombrowski held the same position there.
After a promising 93-win season in 2016 ended in a three-game sweep at the hands of the Cleveland Indians, Dombrowski also took on the presumptive role of unofficial general manager. He then pulled off one of the biggest blockbuster trades in team history at winter meetings.
The Western Michigan grad acquired Chicago White Sox ace Chris Sale in exchange for a heap of young prospects, including Yoan Moncada.
Dombrowski had effectively turned the American League on its head by adding Sale, a top-five AL pitcher, to a rotation that already included two Cy Young arms in Price and the 2016 winner Rick Porcello. The trade immediately made Boston the favorite to win the AL pennant.
There had long been speculation that Boston was going to make a blockbuster move, but many were still surprised when it finally happened.
Except Dombrowski, that is. To put it simply, Dombrowski is a man with a plan. A five-year plan, to be exact.
"It's a detailed process, of course," Dombrowski said of his strategy for aggressively pursuing star players. "I have a five-year plan in my pocket and I always carry that with me."
He then removed from his inner suit pocket what looked like a football coach's play calling sheet, a color-coded spreadsheet organized by year. This was the blueprint for the championship team Dombrowski is trying to build.
"Ownership has a copy of that," he said. "It's a combination of how our club will look not only now, but in the future."
It is clear that the seasoned executive is detail-oriented and takes preparation seriously.
However, there are some things that even Dombrowski can't plan for.
The tensions from the 2016 election cycle infected every part of American society, and the sporting world was no exception. Whether it was LeBron James' endorsement of Hillary Clinton, NBA coaches' open criticism of the president or Colin Kaepernick taking a knee, we seem to be at an inflection point between sports and politics.
Yet, in the most ethnically diverse of the four major sports, one with over 27 percent of the players being Hispanic, baseball has noticeably been silent as the rest of the country is engulfed in a free-for-all shouting match.
Dombrowski's calm and calculated style seems to fit in with the rest of the baseball world. He prefers to make headlines with the moves he makes, not the words he says.
But the level-headed Red Sox executive may find himself confronting uncomfortable challenges in a new age of athlete activism.
"First of all, I grew up in a different era," he said. "Basically, there were some topics that you kept pretty private, unless you were involved in them, which is politics and religion. That's my own personal view, but that doesn't mean it's the players' perspective."
While Dombrowski is not one to speak up about off-the-field issues, that doesn't guarantee his players will follow suit. But thus far, there has yet to be any Red Sox player, or any baseball player for that matter, to make a significant statement about politics in America.
In his column for ESPN, Jayson Stark examined how MLB locker rooms avoid the subject of politics. It also showed that although executives like Dombrowski say, "our players, they're grown men, they can do whatever they would like," there seems to be an unspoken agreement for players to remain silent on hot-button issues.
"I don't know that we think that the clubhouse is the place for them to be talking politics and religion," Dombrowski said. "I think we're more interested in presenting their views on our industry and playing the game. You could never prevent anybody from doing what they would like, but I would have to say that we would encourage them to keep their views to themselves."
Besides avoiding the obvious media circus that would ensue if an athlete were to make even a somewhat controversial statement, Dombrowski and his peers are also concerned about activism affecting the bottom line.
"Again, as an entertainment industry, you want to entertain everyone," he said.
However, there is mounting pressure on the sports industry to foster a more inclusive environment. Speaking at the Play It Forward Summit hosted by Boston University's Department of Athletics, BU's College of Communication, the Howard Thurman Center for Common Ground and WBUR Radio, Dombrowski said the focus of baseball's efforts should be more on "making people aware, from minority perspectives, of all the opportunities that exist."
Baseball front offices are known for diverse professional perspectives. The Cleveland Indians have recently hired baseball writers, and the Oakland A's of "Moneyball" fame notoriously hired people with economics backgrounds who could apply their knowledge to baseball.
"You explore all different possibilities," Dombrowski said. "I think if you're intelligent enough, know the game well enough, willing to learn, I think you look at everybody and what they bring to the table. It's amazing what backgrounds we have in front office people."
In addition, baseball front offices are increasingly reflecting the makeup of Wall Street or Silicon Valley more than the communities across the country in which the game is played and beloved.
Currently, 11 of the 28 GM's in the MLB are Ivy League graduates. Dombrowski himself attended Cornell University briefly before transferring to Western Michigan.
The same core issues that have sparked political movements are manifested in America's pastime: lack of diverse viewpoints and the consolidation of decision-making power put in the hands of educated elite.
As much as Dombrowski is hesitant to bring politics into the world of sports, MLB diversity initiatives are created in the same mold as political ones. Specifically, Dombrowski highlighted baseball's grassroots approach to finding both diverse players and administrative talent.
"There's a lot of efforts through Major League Baseball that's taking place now, [starting] at the grassroots," Dombrowski said. "And not only the opportunities that exist on the field, but off the field. That's something that Major League Baseball is doing right now on a very strong basis, there's a lot of different programs that are taking place."