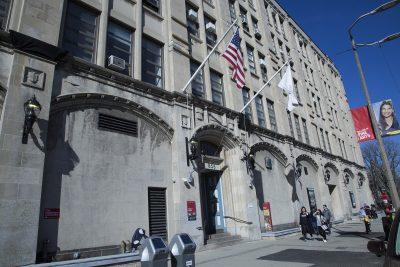 Boston University College of Fine Arts professor Eric Ruske was pulled from a concert lineup at the University of Mary Washington Philharmonic Orchestra, according to UMW spokesperson Hilary Kanter.
Ruske was scheduled to play Richard Strauss' Horn Concerto No. 1 in UMW's Philharmonic Orchestra's season finale on Friday. However, earlier this week, the orchestra decided the piece will be played without him, Kanter said.
Ruske is embroiled in a lawsuit brought by CFA senior Erin Shyr and former CFA student Maria Currie for several charges related to sexual harassment. A federal judge denied a request from defendants, Ruske and BU, to drop five of the 10 allegations listed against them, The Daily Free Press reported in March.
Kanter said she could not confirm whether or not the controversy surrounding the lawsuit led the orchestra to remove Ruske from their lineup.
"I made an adjustment to the notice about that event to remove him," Kanter said. "He won't be performing."
Since the lawsuit was filed, some BU students have been taking action seeking Ruske's ouster as a professor. Ruske is currently teaching in CFA, according to BU spokesperson Colin Riley.
Katharine Kolin, a sophomore in the College of Arts and Sciences, created a petition encouraging BU to terminate Ruske's employment last June that has since garnered hundreds of supporters.
Kolin said she created the petition to ensure the lawsuit remains under public scrutiny.
"With many situations like the Ruske case, people abandon the cause and therefore the survivors either because they become out of touch … or because the justice system doesn't process cases like these quickly enough to hold people's attention," Kolin wrote in an email.
The petition recently surpassed 500 online signatures, which Kolin said is a testament to the growing outrage against him.
Kolin said she thinks Ruske's career should be over, along with his standing in his field.
"It goes without saying that once a person is revealed to have violated another individual sexually, their career should be over and standing in their field obliterated," she added. "To knowingly have a predator in a position of power, especially in a place of higher education, is a shame and a disgrace."
By canceling Ruske's performance, Kolin said UMW showed character and a "passion for its students" in a way she has never seen from BU.
"Cancelling a performance with Ruske was a courageous act on the part of UMW," Kolin wrote. "Many universities, Boston University included, maintain that they will do the right thing but never follow through. Knowing what the right thing to do is separate from having the bravery to do it. The first relies on instinct, and the second relies on character."
Both Ruske and Riley declined to comment on the cancellation.
Allie Miller and Alana Levene contributed to the reporting of this article.
CORRECTION: In an earlier version of this article, it stated Eric Ruske was pulled from the UMW concert lineup because of the sexual harassment charges. This information has not been confirmed, and the updated version reflects this change. We regret this mistake.