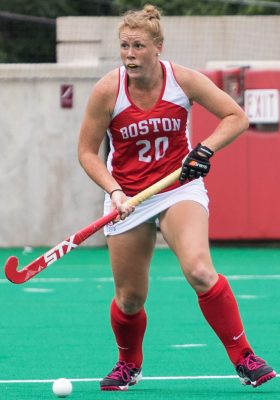 Boston University athletic teams shined during the 2016-17 school year. From Academic All-Patriot teams to All-American honors the Terriers once again succeeded from August through May in their fourth season as a part of the Patriot League. As Terrier fans waved goodbye to the class of 2017, a new crop of freshmen will report to Commonwealth Avenue. Let us reflect on this past season, and talk about next year.
Fall Sports
Field Hockey
2016 Season-in-review: In her 36th year at the helm, head coach Sally Starr guided the Terriers to a spectacular season. The team finished as the 15th ranked squad in the country, boasting a 13-6, and 5-1 (Patriot League) record. The Terriers were led by a dynamic group of seniors — leading scorer Amanda Cassera, Patriot League Offensive Player of the Year Hester van der Laan and Patriot League Defensive Player of the Year Ellie Landsman. BU ultimately fell in the conference final at home to American University, but the Terriers continue to be one of the premier field hockey programs in the nation.
2017 Top returners and expectations: Rising junior defender Ally Hammel will look to fill in for Landsman to anchor the Terrier defense. The Duxbury native earned Patriot League Defensive Player of the Week honors three times as well as earning one weekly honorable mention.  Rising junior Kara Enoch scored four of her five goals in conference play. She started just seven of 19 games played, and will likely see a bigger role offensively. Among the freshmen entering the ranks at BU will be Kathryn Scheerer who participated in the U19 U.S. National Indoor Team this past year. Returning with a young core of players, mixed with nine newcomers, the Terriers look to make another run at the Patriot League finals. 
Men's Soccer
2016 Season-in-review: A double overtime shootout loss to Bucknell University sent the Terriers home early in the opening round of the Patriot League Tournament last season. The Terriers (8-6-3, 4-3-2 Patriot League) ended up finishing fourth in the conference. Boston won five of its final six games to close the regular season.
2017 Top returners and expectations: Rising senior Anthony Viteri was tied for the team's top scorer in 2016 despite missing two games. He looks to earn his third All-Patriot League First Team selection, or every year since he transferred from St. John's. Head coach Neil Roberts will either look to a freshman to start in goal, or go with senior Bjorn Kammholz, who has only made two appearances on the field.
Women's Soccer
2016 Season-in-review: A quartet of valuable seniors and one graduate student aided the Terriers to their fourth consecutive Patriot League title game. Goalie Bridget Conway started 15 games compiling a 5-5-1 record. In front of Conway was a stellar defense led by 2016 Patriot League Defensive Player of the Year Rachel Bloznalis and All-Patriot League Second Team performer Rachel Blauner. BU dropped their first 10 games, but surged to finish the campaign with a 9-11-1, 8-1 (Patriot League) record.
2017 Top returners and expectations: Head coach Nancy Feldman's squad will see the return of the top two scorers, rising junior McKenna Doyle and rising senior Jesse Shreck. Both players were named to the All-Patriot League Third Team last season. Rising senior Hannah Ciolek made six starts in goal last year and will likely assume the starting position.
Winter Sports
Women's Ice Hockey
2016 Season-in-review: Graduate student Mary Parker led the Terriers with 24 goals and junior Victoria Bach won the conference scoring title with 49 points. BU fell to Northeastern in the Hockey East semifinal round, despite defeating the Huskies 7-2 in their final season meeting. By season's end, head coach Brian Durocher's team finished with a 19-12-6 record overall, going 12-8-4 in conference play. 
2017 Top returners and expectations: Bach leads a talented group of returners. Rising sophomore Abby Cook was named to the 2017 Pro Ambitions All-Rookie Team and will be a major defensive force after blocking 51 shots in her rookie season. Cook also tallied 15 points. Returning rising seniors Rebecca Leslie and Nina Rodgers both scored double-digit goals last season, and Leslie will lead the team as captain this season.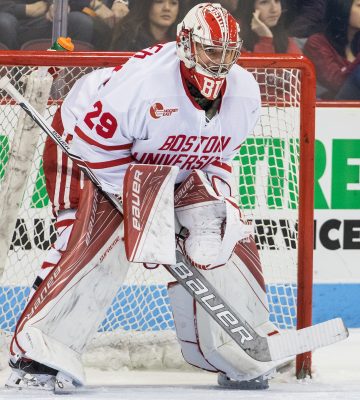 Men's Ice Hockey
2016 Season-in-review: David Quinn's team had many ups and downs this season, but finished strong earning a double overtime victory over North Dakota in the NCAA West Regional. Hockey East Rookie of the Year Clayton Keller dominated college hockey posting 45 points in 31 games before signing with the Arizona Coyotes in the NHL. Former star Terriers Charlie McAvoy and Jakob Forsbacka Karlsson shined this year in their NHL debut with the Boston Bruins. Freshman Jake Oettinger will likely be drafted during this summer's NHL draft after being named to the Hockey East All-Rookie Team and Patriot League Second Team. In 2016-2017 the Terriers went 24-12-3, and 13-6-3 in the conference play and finished by ranking as the sixth in the country.
2017-18 Top returners and expectations: Oettinger brings a wealth of experience as a rising sophomore and will be leaned on to be solid contributor most of the games as the goaltender. Patrick Harper, also a rising sophomore, was the team's second-best scorer and will aim to continue his impressive play. The Terriers lost a total of six players, but they have talented freshmen joining the program. Once again, the Terriers will look to be one of the top 10 programs in the country and are certainly reloading to keep Agganis Arena a winning venue for Terrier sports fans.
Women's Basketball
2016 Season-in-review: Head coach Katy Steding was able to more than double her career win total after successfully leading the resurgence of the Terrier basketball program. BU finished 13-17, but 11-7 in the Patriot League. Senior Sarah Hope broke the school's all-time three-point record and was honored as an All-Patriot League Second Team performer. Sophie Beaudry broke onto the scene in her first season as a Terrier after transferring from Monmouth. The 6-foot-5-inch center led the Patriot League in blocked shots and was in the top 10 in scoring and earned All-Patriot League First Team and All-Defensive Team honors.
2017-18 Top returners and expectations: Rising junior guard Naiyah Thompson emerged as one of the top defenders in the Patriot League. Nia Irving was named to the Patriot League All-Rookie team during her freshman campaign. The Terriers have a plethora of players with experience as starters, and four incoming freshmen will give them the boost they need after losing their strong seniors — Hope, Courtney Latham and Meghan Green. The Terriers will certainly look to improve on their 2015-2016 season that saw them lose in the Patriot League quarterfinals.
Men's Basketball
2016 Season-in-review: The Terriers made it to the Patriot League semifinals, losing in double overtime against Lehigh at home. Seniors Justin Alston and Eric Fanning were honored to Patriot-League All-Conference teams, while freshman Tyler Scanlon earned All-Rookie Team honors. The Terriers found themselves as regular season conference runners up, boasting a 12-6 conference record, 18-14 overall.
2017 Top returners and expectations: Rising sophomore Destin Barnes and incoming freshman Walter Whyte could be one of the top shooting guards and forward tandems in the conference. Both stand at 6-foot-6-inches and are tremendous penetrators. Barnes appeared in 10 games, including starting against the University of Connecticut, before being suspended. Whyte was an ESPN Top 100 recruit during his junior season in high school and fielded over 30 offers before choosing Boston University.
Spring Sports: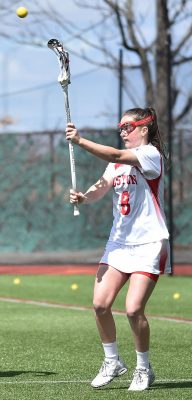 Women's Lacrosse
2017 Season-in-review: Head coach Liz Robertshaw led the Terriers to a 10-8 overall record including going 6-3 in Patriot League play. Senior goalkeeper Caroline Meegan was named to the All-Patriot League First Team and the conference's Defensive Player of the Year after posting a 12.30 goals against average. Freshman Kailey Conry tallied 68 points in 18 games en route to All-Patriot League Second Team honors.
2018 Top returners and expectations: In her sophomore year, Conry will lead a deep and talented offense. Inexperience among the goalkeepers may hamper the Terriers, but the offense should be potent enough to lead a successful team.
Men's Lacrosse
2017 Season-in-review: The most successful season in program history generated much attention on campus after consistently being ranked near the nation's top 20. Seniors Cal Dearth and Christian Carson-Banister were named All-Americans and head coach Ryan Polley earned Patriot League Coach of the Year honors. Dearth and teammate Dominick Calisto were the first Terriers drafted into Major League Lacrosse. Dearth was selected by the Charlotte Hounds while Calisto was picked by the Ohio Machine. Both players were selected in the fourth round. BU climbed to a 12-5, 5-3 (Patriot League) record including the program's first postseason victory over Lehigh.
2018 Top returners and expectations: BU returns with a talented offense. Among the players set to return are rising sophomore midfielder John MacLean, rising junior attacker James Burr and rising senior attacker Jack Wilson. Replacing Carson-Banister will be tough. Seventeen seniors graduated, but the program is now considered one of the top in the country. 
Softball
2017 Season-in-review: A slow start hampered the Terriers, but head coach Ashley Waters rallied the team to their third Patriot League title appearance in four years. In her second year at the helm, Waters guided BU to a 16-game Patriot League win streak. Seniors Makinna Akers, Moriah Connolly and Gabi Martinez finished their careers in spectacular fashion. Connolly became the Patriot League's all-time stolen base leader. Akers was second in ERA in the Patriot League boasting 1.09 ERA during conference play.
2018 Top returners and expectations: Rising sophomore Kali Magane will look to improve on a solid freshman campaign in which she led the team in wins with 13 and innings pitched with 155.  Alex Heinen will enter her junior campaign defending the conference homerun and RBI titles. Jilee Schanda will return for her senior season as the reigning Patriot League Player of the Year.
It is only the months of summer, but Boston University Athletic teams are already preparing for their next season. With many familiar faces, returning success should be plentiful during the 2017-18 school year.