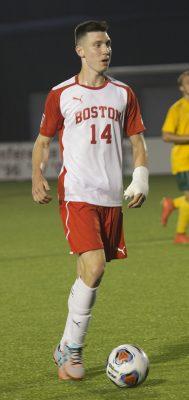 Coming off a strong 2016 campaign and a third straight playoff appearance, the Boston University men's soccer team will look to continue its success in 2017. The season kicks off with an away game on Aug. 25 at University of Rhode Island. This season will also mark Neil Roberts' 33rd season as head coach of the Terriers.
Last season's ending was a heartbreaker for BU who finished 8-6-3 overall and 4-3-2 in conference, which was good for fourth in the Patriot League.
During the opening round of the Patriot League Tournament, Bucknell University outlasted the Terriers in a shootout following a 1-1 draw after double overtime.
The 2017 season, which could bring a Patriot League Championship and NCAA Tournament berth to Boston, now faces many concerns.
Senior midfielder Anthony Viteri, who was arguably one of the best players in Division I soccer and a 2015 and 2016 All-Conference First Team selection, was going to play a major role this year for BU, but concussions have effectively ended his playing career.
It is a devastating blow to the Terriers, but Roberts said he believes his team can potentially fill the void of a seemingly irreplaceable player who tied for the team lead in points last season, with 18.
"You're obviously disappointed for him, he's such a talented player," Roberts said. "His dream was to be a professional player and he was on that track. You hate to go through that, but he's handled it very well and he's helping us in different ways. We'll have to get his points and goals in some place."
Viteri will be missed along with other players who have graduated including 2015 Patriot League Goalkeeper of the Year Matt Gilbert, midfielder David Asbjornsson and forward Felix De Bona.
However, Roberts and his staff assembled a team that could fill the void that those players left. It's a tough break to be dealt this luck and lose the seniors Roberts did, but he said he has the same confidence in his team as if the former players were still with the Terriers.
The senior class will be led by defender Adam Sheikali who has played a key role for Roberts, starting in 16 of 17 games last season. Senior midfielder David Amirani will also look to provide a leadership role for the younger players.
"The leadership will be interesting, that's kind of work in progress," Roberts said. "You kind of figured Anthony would take up that flag. Who is going to be the leader is going to evolve over the preseason."
As the season approaches, it remains unclear who will become the starting goalkeeper for the Terriers. It seems as though senior Bjorn Kammholz will be given the first crack given his previous experience playing with the Terriers and seniority, but Roberts insists that no starter has been named yet.
"We got three goalkeepers competing right now," Roberts said. "We have a freshman, a transfer student in and a returning senior. I think that will be one of our strongest depths in terms of ability. I think we'll be alright there."
Junior defenders Ben Valek and David Riccio will be crucial in helping whichever goalkeeper earns the starting role.
In order to replicate last season's success, the Terriers will need a high output from their juniors. Junior midfielder T.J. Butzke will play an essential role in determining what kind of season the team has. The Holbrook, New York native has shown flashes of brilliance in the past, including a strong freshman campaign and starting 14 of 17 games as a sophomore in the 2016 season.
"T.J.'s going to have to play a big role on the field as a leader," Roberts said. "We are trying to put him in that situation."
In addition to the upperclassmen, Roberts has confidence in the incoming eight-member freshman class. Roberts noted that he still needs to see games to evaluate the newcomers and was not specific about any players, but acknowledged that the freshman will be vital to BU's success.
"We've got some freshmen that are going to be good, a number of them have talent," Roberts said. "You don't really know what they are going to do until they start playing and studying, playing and traveling. We know they got talent, it's just a matter of when it will come out."
Roberts said he believes that with the junior class, senior leadership and help of the younger players that this season could culminate into a potential conference championship.
"Our expectations are always high," Roberts said. "We want to compete to try to win the conference. That's what we want to do every year."