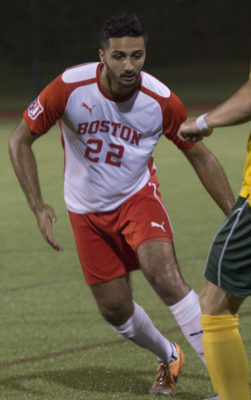 The Boston University men's soccer team will look for its first win of the 2017 season as the team plays the University at Albany. After tough losses to the University of Rhode Island, Boston College and No. 9 University of Massachusetts Lowell, this is the first time the Terriers (0-3) have seen three consecutive losses in the beginning of a season since 2013.

While BU had a 17-5 advantage in corner kicks over all three games, the team was unable to convert any into goals and saw three shutouts.
"I think [we had] one [corner kick] in the BC game and two in the Rhode Island game that we probably should've done better with so it comes down to finishing," BU head coach Neil Roberts said.
After the loss of key players Felix De Bona and Anthony Viteri, the team's leading goal-scorers from last season, the Terriers are looking to other players to recharge its offense.
"It's a young, evolving team and we're close, but we're not there yet and we understand that," Roberts said. "It's a work in progress so we need a lot of people to step up and they will. It's just a matter of being patient and cleaning up some things, and the kids are working hard. It's there in pieces and we just got to make those pieces bigger."
Sophomore forward Matt McDonnell has posted nine shots and two shots on goal including a seven-shot performance against BC (2-2). The Smithtown, New York native finished last season with eight points (three goals and two assists), which landed the then first-year player third highest scorer on the team.
BU's stagnant offense will be tested against Albany (2-1) redshirt junior goalkeeper Danny Vitiello, who recently posted a 4-0 shutout against Rhode Island (1-2).
On the other end of the field, BU has also been dealing with the loss of 2015 Patriot League Goalkeeper of the Year Matt Gilbert. Sophomore Michael Bernardi, a transfer from St. John's University, has played a majority of the time in net and has a .60 goal save percentage while freshman William Bonnelyche has played a full 90-minute game and senior Bjorn Kammholz has played just over 24 minutes.
"William will be in goal [during the Lowell game]," Roberts said. "We'll see how he does and we'll continue to evaluate for a little bit."
While the Terriers have not found the back of the net this season, the Great Danes have scored nine goals over the last three games. Senior forward Afonso Pinheiro, junior midfielder Carlos Clark and redshirt freshman forward Owen Fingar pose substantial threats on the field and have combined seven goals for Albany.
BU's defense will be imperative against the Great Danes' offense that averages three goals per game.
"[In] our games we haven't give up a lot of chances, [but] we're giving up a lot of goals so that's not good," Roberts said. "We just got to do a better job of the quality of the chances that we give up."
This matchup between BU and Albany marks the first time in two years that the teams have met. In their last meeting at Nickerson Field, the Terriers shut out the Great Danes 3-0 when senior back Adam Sheikali notched a goal and an assist as a sophomore.
Another challenge to the Terriers, beside the gaps left by the missing players, remains road games. Last season BU finished with a 1-4-2 away record, and Roberts said cut and dry that the way to improve a poor record is to "score more goals."
"We're not really concerned with last year, but we just got to worry about getting some goals and defending better," Roberts said.