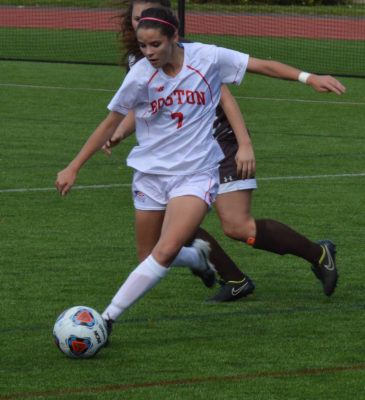 Terriers back from West, nearing conference play
Another year and another tough non-conference slate to start things off for the Terriers.
After failing to defend their 2015 Patriot League Championship title in last season's 2-1 season-ending overtime loss to Bucknell University, BU began its 2017 season with a pair of road losses at the University of Louisville and University of Cincinnati.
Next, however, came a victory, as junior midfielder Julianna Chen's strike in the 34th minute gifted the Terriers a 2-1 come-from-behind victory over local rival Northeastern University on Aug. 24.
Unfortunately for the Terriers, their triumph over the Huskies was followed by a deflating 2-1 defeat against Hofstra University before they embarked on a two-game West trip to Arizona.
Impressively enough, the Terriers left the Grand Canyon State notching 0-0 and 1-1 draws at Arizona State University and the University of Arizona, respectively.
Going into the school year with the tough part of the schedule almost over and already notching a win earlier than they did last season, BU head coach Nancy Feldman noted how exemplary her team's leadership has been in these opening weeks of competition.
"[The leaders] start[ed] to demonstrate and model their leadership on game day," Feldman said. "They were doing a great job in training, working hard, setting a tone and standard in practice. And they've emerged … [with] confidence and a level of competitiveness that we need to be successful. They're all great players, so I think that's been a really positive step over the last six games that is necessary for us to be successful."
Freshmen already finding a spot in Feldman's lineup
For the most part, the step from high school soccer to the Division I level is often too great for freshmen, but not Coach Feldman's rookies.
The four-person class of goalkeeper Amanda Fay, forward Kiana Ghamarifard and midfielders McKenna Kennedy and Anna Heilferty have all found playing time, with the latter three playing in each of their team's opening six games.
They have also contributed on the soccer field, as Ghamarifard and Heilferty have each tallied goals and Kennedy representing a key defensive presence.
"[Ghamarifard, Heilferty and Kennedy] are contributing pretty significantly in their minutes and in their effects," Feldman said. "Anna Heilferty has contributed an important goal against Hofstra … and was a part of creating a goal against Arizona so I'm really pleased with that."
She continued on saying Kennedy and Ghamarifard have also been key in several games.
"McKenna Kennedy is playing some center back for us in critical situations and Kiana Ghamarifard is getting some minutes as an attacking player so that's been a real plus and a pleasant surprise," Feldman said.
While the stats might show a disparity in importance between the attacking players and Fay, the young goalie should not be counted out.
The Atkinson, New Hampshire, native has only 15 minutes of play behind net, but in Feldman's eyes, her rookie goalkeeper has performed admirably to round out this young, but talented, freshman quartet.
"It doesn't show up that Amanda Fay's been contributing because she's a backup — and our second goalkeeper right now — but we're feeling very secure at that second goalkeeper spot because of how well prepared she came in," Feldman said. She continued, "[Fay's] mentality is fantastic and confident and strong and we wouldn't hesitate to use her in goal if we had to."
With conference play awaiting, Feldman looks for consistency
Last season was one of unprecedented lows ending with familiar highs for the Terriers.
BU's 0-10 campaign to begin 2016 was its worst in program history, as it went scoreless in all but two of those 10 losses.
It took the Terriers until Sept. 24 last year to come out victorious, and in typical fashion, finished the season as co-league champions and one victory shy of a fourth consecutive NCAA Tournament berth.
With BU already having a win to its name entering the school year, Feldman said she wants to see one thing from her team that eluded them for so long last season.
The important thing to remember, Feldman said, is to be consistent in training and game mentality. Once players can do that, she said, "that is poise."
"And now that we've found what I call a formula, individually and collectively, our goal is to [have poise] consistently," Feldman continued. "When you start to do that, you form winning habits, and that's what a championship team does."