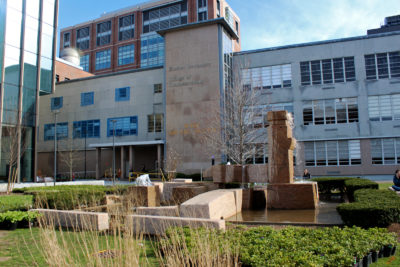 Tiye Barnes, a graduate of South Carolina's Claflin University, just joined BU's student body as the first recipient of a scholarship offered by BU's College of Communication as part of an effort to increase student diversity within the college, according to COM Dean Thomas Fiedler.
The scholarship was created last year through the generosity of a donor, and it allows one Claflin University graduate to get their master's degree from COM with a $10,000 grant each semester, Fiedler explained. The goal, said COM alumna Ermolande Jean-Simon, is to offer Claflin graduates new opportunities while enriching the student body at BU.
Claflin University is a historically black university that was founded by Lee Claflin, one of the founders of BU, making the two schools "siblings of a sort," Fiedler said.
"It gives Claflin students a chance to visit a big city like Boston and live the city life," Jean-Simon wrote in an email, "which most of these students may not be able to do financially on their own."
Jean-Simon, who is currently a student program manager at the New England Center for Investigative Reporting, worked alongside Fiedler to develop and promote the scholarship. The need for a more diverse student body in COM, she wrote, became apparent to her when she was getting her master's degree at BU just a few years ago.
"There were some hard days at COM — days when I wish that there was someone else that looked like me that I could talk to, or opportunities for minorities in communication to gather and discuss, 'Where do we go from here?'" Jean-Simon wrote. "I made it my responsibility as a student do something about it. Thankfully, Dean Fiedler was aware of this and already had it on his list to diversify COM."
Barnes received the scholarship after being recommended by some of her former professors at Claflin University, with whom she is still in contact, she said.
Barnes got her bachelor's degree in mass communications with a concentration in public relations at Claflin University. The scholarship will allow her to get her master's degree in public relations at BU.
Barnes said she is excited to discover what COM has to offer.
"So far, I think the program is intense but in a good way because I know that everything I learn is going to benefit me in many ways," Barnes wrote in an email. "I know that I will gain a lot of practical experience, learn more about public relations and have numerous opportunities to grow as a public relations practitioner."
The scholarship will create a pathway for students of different backgrounds to come to BU, Jean-Simon wrote, where they can share their knowledge and experiences with current students and vice versa.
"I think this program can only make COM and its students better equipped to tackle these diversity issues head on in the classroom and in the workplace," Jean-Simon wrote. "It opens the doors for one of these Claflin students to continue the conversation, share what they learned, and encourage other Claflin students to come to COM."
Several students said they think giving everyone an equal opportunity to further their education and having more diversity are important, but they had differing opinions on how to make it work.
Jillian Lattimore, a junior in COM, said she thinks a greater level of diversity within the college would be beneficial to students.
"[With more diversity] within the classroom, there's more perspectives offered," Lattimore said, "so you're always learning more and thinking outside of your own comfort zone."
Yuqi Liu, a junior in the College of Arts and Sciences, said she thinks that giving more people the opportunity to get their master's degree is beneficial, but she doesn't think that the Claflin scholarship is not the way to do it.
"I don't think the advantage should be given to one group of diverse people," Liu said. "I think it should be based on their grades, scores on the standardized exams … and other stuff, so people [of all backgrounds] have the same chance and opportunity to get into their dream school."
Patrick Lovett, a first-year graduate student in COM, said more diversity is always a good thing and that having a more mixed group of peers has its benefits.
"[Diversity] can always be improved," Lovett said. "Some of the benefits would definitely be new ideas and also … giving people a chance they don't get because of social constraints, because if you give everyone the same playing field, then that's just going to raise everyone's work and raise the standard."
CORRECTION: A previous version of this article stated that Claflin scholarship recipients attend BU at no cost. However, it has been corrected to state that the scholarship grants recipients $10,000 each semester.