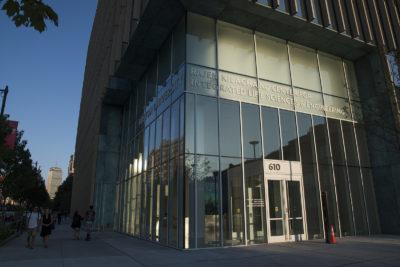 The new Rajen Kilachand Center for Integrated Life Sciences and Engineering opened this past Thursday at Boston University with $15 million from Kilachand's donation covering the cost of the building, The Daily Free Press reported.
BU alumnus Rajen Kilachand donated $115 million total as an investment towards interdisciplinary research, according to BU spokesperson Colin Riley.
"This presented itself as consistent with [Kilachand's] desire to support scientific research that will benefit humankind," Riley said.
The building, which focuses on the intersection between engineering and life sciences, includes three research departments: the Biological Design Center, the Center for Systems Neuroscience and the Center for Research in Sensory Communication and Emerging Neural Technology, Riley said.  
The remaining $100 million dollars will establish the Rajen Kilachand Center for Integrated Life Sciences and Engineering to fund research in those disciplines, he added. Additionally, faculty will have the opportunity to apply for research activity as interest from the endowment accumulates over the years.
Several students said they are hopeful and optimistic to see how Kilachand's donation will impact research at BU.
College of Engineering student Rachel Petherbridge, who plans on conducting research in the Center, said she is excited to take advantage of the building's features.
"Our space is beautiful, and our facilities are state-of-the-art," the junior said. "It's very conducive to our work."
Petherbridge noted that the new facilities, equipment and space in the Center are important for producing the high-quality research necessary to maintain BU's reputation as a major research institution.
"Realistically, it's really hard to do research unless you have money," she said. "Since the space is larger than before, it gives room to grow, to produce more research and publish more often."

Andrew Gelis, a College of Arts and Science junior, agreed that philanthropy like Kilachand's donation advances BU's standing relative to other research universities.
"I know that BU is a huge research school and just anything we can get our hands on to improve with what we're trying to find … is pretty important," Gelis said.
Carolyn Montague, a CAS senior, said she appreciates the donation because it grants BU the recognition and funds it needs to continue carrying out cutting-edge research.
"It's really nice that the neuro department and science are being recognized and the fact that there's more funding for that is phenomenal," Montague said. "The fact that BU could be at the forefront at some neuroscience discoveries is really amazing."
She said donations like these are significant and keeps BU relevant in the conversation amongst other high-ranking research universities such as the local Massachusetts Institute of Technology and Harvard University.
"It shows the university is important not only to teachers students and alumnus," she said, "but it's important to the entire community of Boston [and] the U.S."
Jeff McMahan, who works in the Biological Design Center within the Center, added that from a research standpoint, the donation facilitates BU's quality research.
"[This] really helps make the university better and collaboration with other universities makes us stand out more," the Ph.D. student said.
First-year graduate student Carmen Fonseca said she hopes Kilachand's donation has a domino effect.
"Donations like these probably encourage others to give large gifts," Fonseca said.