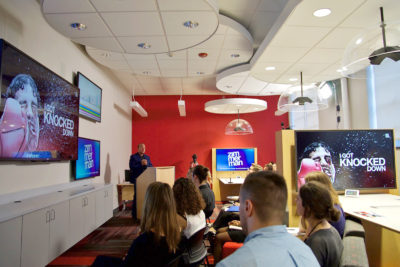 Up and down Commonwealth Avenue, new buildings and bridges have been popping up. The newest project? A room dedicated to social media in Boston University's College of Communication.
The Zimmerman Family Social Activation Center opened on Thursday in COM with a ribbon-cutting ceremony and speech from advertising mogul Jordan Zimmerman, the center's sponsor. Zimmerman said the center gives students the opportunity to learn how to use social media for communicating, marketing and advertising.
The high-tech social media lab, located on the first floor of the COM building, features large monitors where students can surf social media platforms for a variety of purposes. This allows students to be ahead of the game when applying for jobs after college, according to COM Dean Thomas Fiedler.
"[Zimmerman] was among the first in the field to recognize the power of what social media could do," Fielder said. "The doors that it opened, the paths that [students can] follow and the power of what the mobile phone will do – that's really the genesis of what we will see in this classroom."
Zimmerman's team at his eponymous Fort Lauderdale, Florida-based marketing company, Zimmerman Advertising, uses social media to monetize people's online interactions. Zimmerman donated nearly $500,000 to COM with the goal to build the lab, which would allow students to familiarize themselves with the different media they would use throughout their later careers.
"It's important to get our students prepared for the process of entering into the real marketing and advertising world," Zimmerman said, "and how you're communicating through social media and monetizing through social media today."
The social media lab provides a unique experience for students studying journalism, public relations or advertising — since it's the only one of its kind, Fiedler said. The lab will push BU students ahead of students from other universities when they apply for jobs.
"We are now at the vanguard of that intersection between social media, communication, technology and human activity," Fiedler said. "We can weave this technology into everything we teach here, which I think is going to be a huge asset for us in so many ways."
Zimmerman's daughter, Cara, is a journalism student in COM graduating this December. Although she will only be able to use the lab for a few months, she said she knows that it will be an important tool for other COM students as they learn the tools of their trade.
"Having [the lab] in COM is really beneficial, not just for a journalism major, but for anyone talking about anything," she said before the ceremony. "In [public relations], it's important to know what's up to date as well. It's helpful for everyone."
Several people who stayed through the ribbon cutting to listen to Zimmerman's speech said they were excited to take advantage of the resources the lab has to offer.
Akanksa Upadhyay, a COM senior, said she thinks being able to use the lab will give students more job opportunities after college.
"The fact that students are going to get a chance to get trained in something so complex but so crucial is really going to give BU students an edge," Upadhyay said. "It's about opening doors, not just for somebody who already knows what they want to do, but even helping somebody realize what they want to do."d
Leandra Langhorne, a first-year graduate student in COM, said she likes the lab and is excited to use it in the near future.
"It's really fancy in there," she said. "For a small room, you can tell that there's already a lot of different software systems going on and all that. I'm excited, so hopefully next semester, if I'm in AdLab, I'll get the chance to utilize some of the stuff that [Zimmerman] has already been talking about."
Yajie Hu, a COM senior, said she thinks the social media lab will be a valuable resource to communication students in all fields.
"The new room is great. It looks new, it looks avant-garde – it's very technologically advanced," Hu said. "I think it's going to be a great resource for everyone … because you're going to have the ability to monitor and to process big data and monitor social media like we couldn't before."
Alana Fialkoff contributed to the reporting of this article.