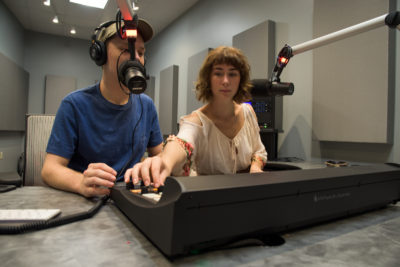 Boston University's student-run radio station, WTBU, will open its newly-constructed studio on the College of Communication's third floor on Oct. 4 — over a year after a fire incurred over $1 million in damages.
WTBU general manager Kyle Davi, a COM senior, said the planning and reconstruction process took almost 18 months due to the extent of the fire's damages and the lengthy process of securing the funds for reconstruction from the insurance company.
"It was the probably the longest period that we had right after the fire trying to get [construction] started and make sure that we definitely had money to rebuild because we knew that we wanted to come back with state-of-the-art equipment," Davi said.
Reconstruction of the studio began at the end of the 2017 spring semester and continued throughout the summer – an optimal time for construction, Davi said, because of the relatively small number of students on campus during the summer months.
The new studio was originally scheduled to reopen for use at the beginning of the fall 2017 semester, but the start date was pushed back by about one month due to construction delays, he added. Throughout the week, WTBU has been holding training sessions in the new space for the station's DJs.
"A month later … is not that bad for such a large-scale project at this station office," Davi said. "It got pushed back but … now we are in a great new studio with all brand-new equipment that looks superb and will be extremely functional for all of our DJs."
In addition to the brand-new equipment, the studio will also contain an expanded live performance space, which will still be under construction during the Oct. 4 reopening.
"It's double the size of what our old performance space was," Davi said. "We can actually fit full bands in there now comfortably. That's one push that we're really trying to get our shows to do is get live performers on because we have this amazing space. We need to use it."
Jake Kassen, technical operations manager for COM, and Anne Donohue, the station's faculty advisor, led the reconstruction process. Kassen, a BU graduate and former WTBU DJ, helped to find and establish a temporary studio in the basement of COM during reconstruction.
"There was a lot of interest in getting everything right, which we have," Kassen said. "It's been a long road with a lot of procedural stuff to go through, but I'm pretty happy with where we've come out to."
The reconstruction of the studio was "a very lengthy process," he added.
Several WTBU DJs said they were excited to utilize the new studio space.
Adrian Thomas, host of WTBU's BU in the Morning show, said after the fire, the transition from the previous studio to the temporary space forced him to post podcast editions of his show instead of broadcasting live. He said he's excited to take advantage of the upgraded studio.
"Right after the fire, it was just difficult. We kind of didn't really know what to do," the COM junior said. "It's been a gradual recovery process not only for BU in the Morning but for all of the shows. But we made it work and we're just happy to be back now."
Thomas said the new equipment was comparable to that of professional-quality studios.
"I interned at SiriusXM Radio this summer in New York City, and our studio we have now is pretty much on the same level," Thomas said. "This is very industry quality. I just think it's super exciting. I think we're going to be able to get a lot of good use out of this studio."
Emily Mo, a College of Arts and Sciences junior, said she is most excited to be in a permanent studio after mostly operating out of the temporary space during her time as a WTBU DJ.
"I'm excited to finally have played a permanent space and also to have a place where fans can come in and do their own thing again with newer equipment," the host of Your Freaky Mood Ring said.
Hannah Harn, another WTBU DJ, said the resilience of the station's members allowed them to continue producing content despite the damage to their old studio.
"The one thing that that didn't change at all is our attitude and our optimism and our love for broadcasting," the COM sophomore said. "I think that that is what enabled us to get up and running again so quickly."