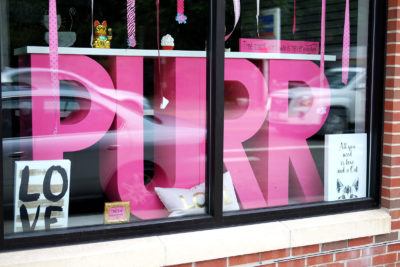 "Make yourself at home," the owner of Purr Cat Café said as she cut through the silence at its open house. "Just enjoy the cats," she said, 20 minutes after long-awaited doors had opened.
Diane Kelly will be the owner of Boston's first cat café — when it opens.
After promises of officially launching earlier this year, then again in mid-August, and now "probably" in two weeks, according to Kelly, the doors of the Brighton store opened over the weekend for a two-day open house.
Despite branding themselves as a café, there will be no food preparation in-house because of health regulations, Kelly said. Staffers at Purr will take patron orders, and will go to get the food from the food suppliers.
Construction hasn't been a straightforward process, either. Purr's building process began in May, but after a fire destroyed the storefront, a contractor was hired by Kelly to build the café from the ground up in 94 days.
The construction finished in August, leaving her with a few weeks to get the store ready, but Kelly faced other obstacles that delayed the open date further — one issue being finding a shelter to provide the cats.
According to its website, the purpose of Purr is to reduce the number of homeless cats and eventually find them "forever homes."
However, the cats currently residing at Purr are not up for adoption.
Purr currently has six cats — all are in Kelly's personal possession and she said she brings them to Purr from her home in Hull. One of her cats, Gussie, was adopted from Little Lions Cat Café in New York City, and Kelly said she doesn't think the cat is comfortable in Purr. Gussie was found hiding in the basement behind a washing machine during the first day of the open house.
Kelly said she's in negotiations with two unnamed shelters, after she severed business ties with the Boston's Forgotten Felines shelter, which was originally supposed to supply rescued cats for the café visitors to interact with and potentially adopt. Kelly said after their verbal agreement was broken, Kelly wrote in a Facebook post, that has since been deleted, that BFF was not a registered shelter in the state.
However, according to a list of approved shelters and rescue organizations from the Massachusetts office of Energy and Environmental Affairs, BFF has been registered as a shelter since at least July of this year — two months before Kelly made her post.
Kelly said there's been a lot of "fallout" since parting ways with BFF, including losing her furnishing company, Aristocat Designs.
Besides dealing with problems with the store, Kelly has been under fire for her conduct on the Purr Cat Café Facebook page, from cursing at commenters, to shaming a past employee for personal matters and lashing out at negative reviews.
"I think that the owner should watch her mouth more, be a little more polite," Megan Quay, 21, of Jamaica Plain, said at the open house. "It's really about the cats, not about her or any drama."
Quay has been following the Facebook page since the beginning, eagerly awaiting the opening, but said she is disappointed by how the situation has evolved.
Kelly acknowledged that Purr's Facebook presence is very important to her, and it's the "face of a business nowadays."
"I know I have made mistakes on my Facebook page … I have clearly been upset and angry at people and I have made mistakes posting," Kelly said.
However, Kelly went on to blame followers of the Facebook page for the online drama.
"Everyone on there is incredibly negative, the commenters. People haven't been here, they don't know who I am, they haven't been to Purr Cat Café, and all these people have been making such negative comments about a business that's not even open yet."
Currently, Kelly is a one-woman show running Purr Cat Café with no employees, completing the space's furnishings and decorations herself.
Kelly relies on volunteers, like Chandler Rowland, 33, of Boston, to help run the store.
"I will be working in here once it opens, but I offered to help because it seemed to need help," he said.
Not all those who made their way to the open house over the weekend were there to affirm the online controversies.
Frederick Frank, 62, of Brighton, was there because he has been excited for the opening of Purr from the beginning.
"I'm glad there's people here supporting it," he said.
Frank said he was anxious about how it was going to end up looking and how the café dynamic was going to pan out. He said he felt uncomfortable at how Kelly handled the open house, wishing she had made more of a welcoming statement and clarified opening dates, rules, entry fees and more.
Quay said she felt Kelly was not "very friendly" and felt an awkwardness about the whole situation. While Quay talked about her experience at the open house, Kelly sat nearby, listening in.
As tension started to dissipate, Kelly asked the crowd, "Does anyone have any questions for me?"
The silence that followed lingered in the room long after.