By Elise Takahama, Caroline Smith and Solange Hackshaw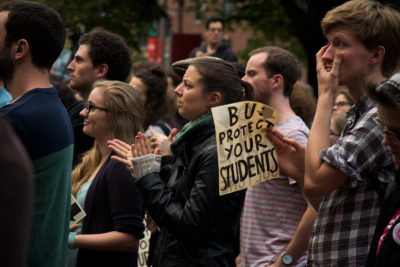 The U.S. House Committee on Science, Space and Technology has started a bipartisan investigation Thursday on the sexual harassment allegations against David Marchant, an earth and environment professor at Boston University.
Marchant, who is on administrative leave as chair of the earth and environment department according to Science Magazine, has received $5.4 million in awards from National Science Foundation and NASA since the late 1990s.
"The science committee has jurisdiction over federally-funded energy and environment and technology research and development," Thea McDonald, the spokesperson of the committee, said. "So our goal here is to ensure all federally-funded dollars … are accountable to the taxpayers who fund this research."
The senior Democrat on the House science committee, Eddie Bernice Johnson (TX) and Lamar Smith, the panel's chairperson (R-TX), are requesting all documentation regarding BU's year-long investigation of Marchant, including federal grants, awards, complaints or investigations, according to a press release from the SST Committee.
"In light of supporting documentation from several other women reporting similar treatment by Professor Marchant and the highly competitive nature of government funding, the Committee is interested in understanding all the facts surrounding the case, what steps the University has undertaken to uncover the extent of the allegations and investigate their validity, and what safeguards the University has in place to address sexual assault and harassment cases," the letter sent from the SST Committee to BU's President Robert Brown read.
Marchant's allegations stem from a complaint by a former researcher, Jane Willenbring, who alleges that he sexually harassed her during their time conducting fieldwork in Antarctica in 1999 when she was 22 years old. Another complaint was filed in May by a former graduate student who also alleges that Marchant sexually harassed her during the trip.
Marchant would throw rocks at Willenberg anytime she went to urinate in the field, Willenberg alleges. As a result of this abuse, Willenberg decreased her water consumption so she could withstand the 12 hour days without urinating, drinking liters at night, causing a urinary tract infection and urinary incontinence, according to Science Magazine.
BU spokesperson Colin Riley said the university will be cooperative in this investigation.
"Boston University has received a letter from the Committee on Science, Space and Technology about David Marchant," Riley said. "We're in the process of reviewing the letter and will be responsive to their requests."
The university has until 5 p.m. on Nov. 9 to provide the documents to the committee.
"We are very much looking forward to receiving responses to those letters," McDonald said.