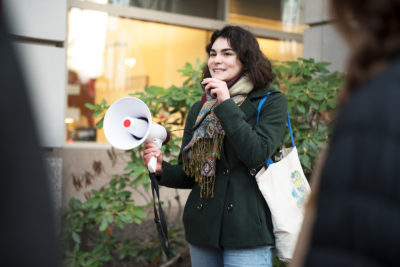 DivestBU urged the Boston University Board of Trustees to adopt BU Bold — a version of the Climate Action Plan advocating that BU shift entirely to renewable energy by 2040 — at a rally Wednesday afternoon.
The rally coincided with National Campus Day of Action — a movement to encourage students across the country to call for environmental action from their administrations in light of the ongoing COP23: United Nations Climate Change Conference.
The CAP was created by the Climate Action Task Force in September. The Board of Trustees will likely vote on whether to induct the CAP next month.
"We're … doing the best that we can along the way to make sure that the Board of Trustees votes on the BU Bold plan, which is the most aggressive form of the Climate Action Plan," Stephanie Eggers, DivestBU's media liaison, said before the rally.
The adoption of BU Bold would require the university to adopt 100 percent renewable energy by 2040, including scope 1, 2 and 3 emissions, Eggers, a sophomore in the College of Arts and Sciences, said.
The goal is to eliminate emissions from "anything from electricity to heating and cooling and transportation on campus," Eggers said, "and then also trying to internalize emissions that come from outside BU's campus, like professors coming to work every day."
In the week before the rally, DivestBU asked students to fill out paper baseball caps, representing the CAP, with a message about why they believe the Board of Trustees should pass the CAP or BU Bold, Eggers said.
"We [made] it into an art demonstration at the [George Sherman Union] so people [could] see all the caps and then be motivated to fill one out," Eggers said.
Rally-goers walked from Marsh Plaza to the building that houses President Robert Brown's office to deliver one of the caps for him to fill out, as well as a letter written and signed by DivestBU. Brown wasn't in the office, so members handed the caps and letter to his chief of staff.
"It's just kind of our call to action for him," Eggers said.
Four community leaders spoke at the rally — Quinton Zondervan, a Cambridge city councilor-elect; Marta Marello, project manager of BU's Climate Action Plan; Jake Taber, campus coordinator with Environment America and Bolaji Olagbegi, a DivestBU member and sophomore in the CAS.
Marchers chanted in between speakers and along the walk, demanding climate action from BU.
"What do we want? Climate action," they cheered. "When do we want it? Now."
Taber said before the rally that he wanted to show Environment America's support for BU Bold and explain how BU's commitment to sustainability can create momentum for larger commitments at the city and state level.
"[We want to be] able to make sure the universities make these strong commitments," Taber said, "which can be in themselves really strong and powerful examples for the cities and states in which those universities reside."
Taber said he is optimistic that the Board of Trustees will pass BU Bold due to BU's history as a leader in sustainability.
"BU is in a really good place when it comes to momentum and when it comes to the culture and the commitment it's already made to sustainability," Taber said. "I really think that the trustees are going to see that this is the right thing to do, and they're going to make the right decision."
Masha Vernik, the DivestBU activism liaison, said if they have BU's best interest in mind, the trustees will vote to adopt BU Bold.
"Feasibly it can definitely be achieved," Vernik said. "The Climate Action Plan has outlined pretty detailed steps about how BU can make pretty concrete changes to its energy sources and the amount of the grid that it owns and where it owns places in different utility grids."
Several students who participated in the rally also expressed their support for BU Bold.
Wiley Hundertmark, a CAS sophomore and a member of the Environmental Student Organization, said he attended the rally out of concern for his hometown.
"I come from a seaside town that potentially will be influenced pretty heavily by rising sea levels," Hundertmark said, "so it's really important to me that my hometown doesn't get completely underwater over the course of not only my lifetime, but [that of] my children in the future."
Hundertmark said he hopes the rally will influence the Board of Trustees to adopt BU Bold for the good of the Boston community.
"It's all about getting the administration to realize there are a lot of students at BU who are really passionate about this and that really are working toward this because they feel it's the best thing to do," Hundertmark said.
Margaret Bywater, a College of Communication freshman and a member of DivestBU, said she thinks climate change is an issue that can easily get lost in the discourse of daily life.
"I hope the Board of Trustees and President Brown adopt the BU Bold plan of the Climate Action Plan because I think that it's the best way for BU to become a leader among universities for saying no to climate change," Bywater said. "I think that we could start a chain reaction that could be really powerful."
CORRECTION: A previous version of this article misstated a statistic regarding sea level rise within a quote by a student and rally participant Alexandra Chin. It mistakenly said that Boston could be 40 percent underwater by 2030. This quote has been removed.