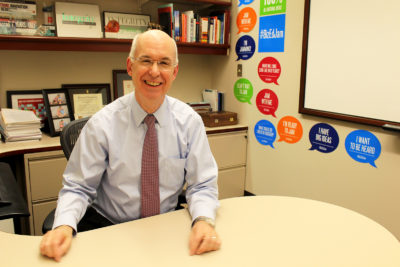 By: Elise Takahama and Lexi Peery
Questrom School of Business Dean Kenneth Freeman announced Wednesday evening that he's stepping down from his position in June 2018, marking the end of a nearly eight-year run.
During his time as dean, Freeman has seen undergraduate student enrollment increase by 30 percent and he has led the creation of two university-wide research institutes. He has accepted a $50 million donation — the second largest single gift the university has ever received — on behalf of the school. And he's watched the School of Management become Questrom School of Business.
While Freeman said he has loved his experiences at Boston University, he said he feels "the time is right" to move on.
"I've been the dean for eight years and the new strategic planning process that the school is working on is being implemented … the time is right for me to step down [so] the new dean can be apart of the process," Freeman said. "I've tried my best to leave where I've gone to work better off than when I came."
He went on to say that the school has revamped the university wide strategic plan twice while he's held the title of dean — in 2007 and 2014 — but this plan is completely new. Rather than spending time working on the plan and then stepping down a few years later, Freeman said it would be better to do so now to allow the new dean the ability to control the process of implementing the university's plan at the school.
"This has been the most rewarding experience of my entire career," said Freeman, who started out at Corning Incorporated, then became CEO of Quest Diagnostics and partner at Kohlberg Kravis Roberts & Co. Because of his experience in finance and private equity, Freeman was named one of the top 100 best performing CEOs in the world by Harvard Business Review in 2013.
For Freeman, what made this job so rewarding was constantly working and meeting with students. In his office on the second floor of the Questrom building, Freeman opted for the former Questrom Student Government office, rather than the spacious fifth floor office previous deans had occupied.
"It's a great place to be, right in the middle of it," Freeman said. "There's just something about the students here … It's been phenomenal to engage with [students]."
In the email Freeman sent to Questrom students, the dean expressed his appreciation for the school.
"I am deeply grateful to the dedicated faculty and staff who have energetically supported efforts to transform the School at a time of tremendous change," Freeman wrote. "I am particularly grateful for having had the opportunity to engage with YOU — our students. Best wishes as you continue your studies at Questrom, and in your personal and professional lives for years to come."
In light of the news, the university has embarked on a national search to find a new Questrom dean, wrote Jean Morrison, university provost and chief academic officer, in a press release from the Office of the Provost. The Dean Search Advisory Committee will be made up of at least eight faculty members elected by faculty from other BU colleges, Questrom faculty and the provost, according to the BU Faculty Handbook.
"Dean Freeman has accomplished what we all strive to do — leave a place better than we found it," Maria Anderson, senior associate dean of administration and finance, wrote in an email. "While he will be missed, his legacy will live on in the lives he has transformed and I have full confidence that the University will find a worthy successor to lead the Questrom School of Business."
After hearing Freeman's announcement, Questrom students reflected on his time with the school.
Keshav Kakkar, a Questrom senior, said he appreciated Freeman's accessibility and openness. In fact, Freeman holds open-door office hours, during which students can stop by and ask him for advice, insight and anything else they have on their mind.
"He was so effective in explaining to me what things I should be considering after graduating, how should I be looking at business schools, and how should I be looking at companies."
Kakkar added that when Freeman came in, "the entire school changed for the better."
Questrom sophomore Brooke Gallaway said she was surprised by the announcement.
"This decision comes as a shock to me," Gallaway said. "Dean Freeman is well known and well liked by students of Questrom so I'm sure this will come as a disappointment to most."
Michael Rizal, a Questrom junior, said that he hopes whoever steps into the position stays connected with BU alumni.
"I just hope there is going to be a substitution that's going to be just as good as him if not better," Rizal said. "Maybe someone who really reaches out to our alumni … it'd be great to have someone who really emphasizes that."
Although Freeman said he is unsure what the future will look like for him, the dean said he was honored to have served as the dean at Questrom and is looking forward to the next phase of his life.
"I'm optimistic … [and] excited to decide what the next adventure is," Freeman said.
Alana Levene, Till Kaeslin and Sabrina Schnur contributed to the reporting of this article.