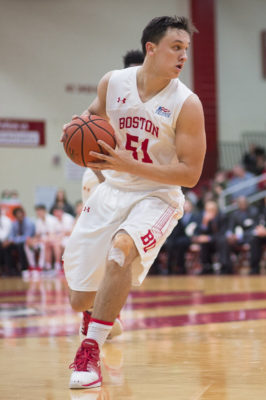 Senior guard Cheddi Mosely and sophomore guard Destin Barnes will not play the rest of the Boston University men's basketball season due to injuries, according to a press release sent Wednesday from the BU Athletics Department.
"I'm very disappointed for both Cheddi and Destin that they won't be able to return," BU head coach Joe Jones wrote in the release. "Their presence will surely be missed."
Mosely and Barnes appeared in the Terriers' (4-5) first two games of the season against Northeastern University and the University at Albany, but were absent for the following seven games.
The press release stated Barnes has a shoulder injury while Mosely has a knee injury.
Last season, Barnes and Mosely only played 10 and 11 games respectively, due to what Jones called an "internal matter."
Neither player was seen on BU's bench for the remainder of the 2016-17 season, along with then-senior center Blaise Mbargorba.
Against Northeastern (6-4), Mosely scored a team-high 12 points and added a three-pointer against Albany (10-2) three days later. The senior has played a total of 72 games for the Terriers.
Barnes contributed 10 points and team-high seven rebounds against Albany.
BU finished its four-game road trip with a game against the University of Massachusetts, Lowell, where it fell 87-82.
CORRECTION: A previous version of this article stated that Barnes was out with a knee injury and Mosely was out with a shoulder injury, but it was the other way around. The current version of this article reflects those changes.